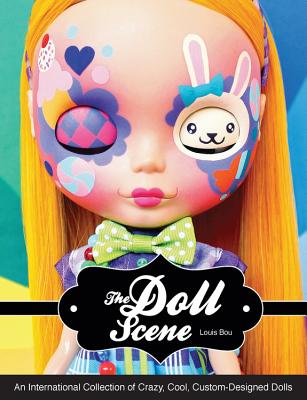 The Doll Scene (Paperback)
An International Collection of Crazy, Cool, Custom-Designed Dolls
Rockport Publishers, 9781592539031, 256pp.
Publication Date: April 15, 2014
* Individual store prices may vary.
Description
The Doll Scene features hundreds of custom-created dolls by the hands of some of the best artists worldwide using mainly original Blythe, Pullip, Ball Jointed Dolls, Dal, or Monster High dolls as "raw material" to generate their lovely and stunning characters. These dolls have an oversized heads and large eyes that change colors! Changing everything from the original serialized doll - hair, makeup, reshaping faces, adding new eyelashes, eyelids and clothing - the artists featured in The Doll Scene create some truly amazing figures.
About the Author
Louis Bou (Barcelona) is a graphic designer, art director, editor, book author and photographer specializing in contemporary fashion, and the director of his own studio in Madrid, Spain. Working in the publishing world more than a decade from now, he is the author of more than 30 books about graphic design, photography, illustration, street art, toys and fashion. Some of his books have become real best sellers, such as We are Paper Toys!, Street Art: The spray Files, NYC-BCN: Street Art revolution, Street T, Windows of The World and Couture Hats, published by Harper Collins Design, selling together more than 100,000 copies worldwide. He has worked for some other publishing houses like GraphicSha and BNN in Japan, Pageone and Basheer Graphics in Asia, Monsa Publications, Loft Publications and Mao Mao in Europe, just to mention a few. In 2012 he decided to jump on his own career opening his own studio of photography and publishing Mista Studio by Louis Bou in Madrid, where he works for publishers and magazines worldwide. He also works as a photographer for models and actors agencies. Bou has also ventured himself into the world of video-clip filming and directing his first music video for the Spanish pop band called Alivem. He is now preparing his first feature film.
Louis Bou is a graphic designer, art director, editor, author, photographer, and the director of his own studio, Mista Studio, in Madrid, Spain.
Praise For The Doll Scene: An International Collection of Crazy, Cool, Custom-Designed Dolls…
"Embrace your inner doll with Louis Bou's The Doll Scene. Straddling the cute/creepy threshold with pictures of hundreds of custom designed dolls, this book is hard to look away from." - Campus Circle