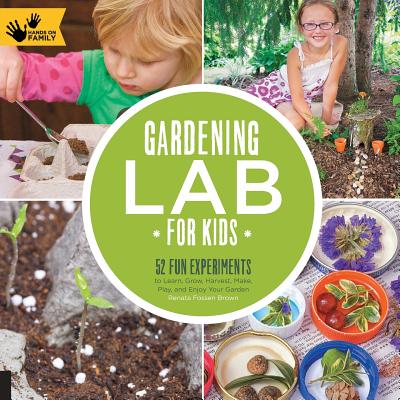 Gardening Lab for Kids
52 Fun Experiments to Learn, Grow, Harvest, Make, Play, and Enjoy Your Garden
Paperback

* Individual store prices may vary.
Description
A refreshing source of ideas to help your children learn to grow their own patch of earth, Gardening Lab for Kids encourages children to get outside and enjoy nature. This fun and creative book features 52 plant-related activities set into weekly lessons, beginning with learning to read maps to find your heat zone, moving through seeds, soil, composting, and then creating garden art and appreciating your natural surroundings.
Author Renata Fossen Brown guides your family through
fun activities that are also lessons
 about botany, ecology, the seasons, food, patience, insects, eating, and cooking. Have fun exploring:
pollinators by making a pollinator palace out of bricks, sticks, twigs, bamboo, and pegboard.
the basic elements of soil—sand, silt, and clay—by testing how well your soil drains with just a shovel, water, ruler, and timer.
color theory by creating a table top color wheel from different colored annuals.
native birds by making a bird feeder from an old picture frame and piece of screen.
Gardening Lab for Kids
is the perfect book for creative families, friends, and community groups and works as lesson plans for both experienced and new gardeners. Children of
all ages and experience levels
can be guided by adults and will enjoy these engaging exercises. So, slip on your muddy clothes, and get out and grow!
The popular
Lab for Kids series
features a growing list of books that
share hands-on activities and projects on a wide host of topics
, including art, astronomy, clay, geology, math, and even how to create your own circus—all authored by established experts in their fields. Each lab contains a
complete materials list
, clear
step-by-step photographs
of the process, as well as
finished samples
. The labs can be used as singular projects or as part of a yearlong curriculum of experiential learning. The activities are open-ended, designed to be explored over and over, often with different results. Geared toward being taught or guided by adults, they are enriching for a range of ages and skill levels. Gain firsthand knowledge on your favorite topic with Lab for Kids.
Praise For Gardening Lab for Kids: 52 Fun Experiments to Learn, Grow, Harvest, Make, Play, and Enjoy Your Garden…
"This fun collection of DIY activities – or gardening 'experiments,' as the author calls them – ranges from building rain barrels and gardening tool boxes to making a desert terrarium or growing a tropical porch container. My kids were immediately drawn to the projects in this book; my daughter has big plans for the fairy garden, and my son wants to make a sprinkler. And we're all fans of the mini pizza garden that helps us grow our own tomatoes, peppers, onions, basil and oregano." - CoolMomPicks.com
'beautifully presented, and the ideas are lovely'
Quarry Books, 9781592539048, 136pp.
Publication Date: April 1, 2014
About the Author
As Associate Director of Education, Renata Fossen Brown (Cleveland, OH) oversees the thousands of school children visiting Cleveland Botanical Garden yearly, as well as the development and implementation of teacher professional development workshops. She assisted in the planning and facilitating of a 10-day teacher workshop that traveled to Costa Rica to study biodiversity. Brown is involved in the writing of interpretation and exhibit graphics at the Garden and served as president of the Cleveland Regional Council of Science Teachers. Brown holds a BA in Biology from the University of Toledo and an MA in Curriculum and Instruction from Bradley University, in Peoria, Illinois. She is certified to teach grades 7–12 science, and has been active in informal science education since 1993. As Assistant Curator of Education at the Toledo Zoo, Brown was responsible for all educational programs occurring on Zoo grounds, as well as researching and writing for their Emmy award–winning television show, Zoo Today. Creating and implementing their very first Earth Day Celebration is a task of which she is particularly proud. She continued her education role, while adding volunteer coordinator duties while working at Luthy Botanical Garden in Peoria, Illinois. A native Clevelander, Renata Fossen Brown gladly returned home in 2004 after a 15 year absence. She was named the Garden's Clara DeMallie Sherwin Chair in Education in December 2004. She is usually surrounded in her yard by her three dogs and prefers natives and perennials over annuals any day. She is particularly in love with purple coneflower.