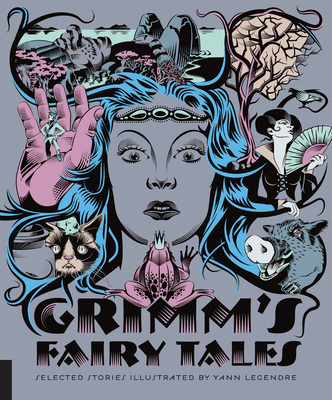 Classics Reimagined, Grimm's Fairy Tales (Hardcover)
Rockport Publishers, 9781592539079, 208pp.
Publication Date: September 1, 2014
* Individual store prices may vary.
Description
An unabridged classic tale with dazzling modern illustration
The Classics Reimagined series is a library of stunning collector's editions of unabridged classic novels illustrated by contemporary artists from around the world. Each artist offers his or her own unique, visual interpretation of the most well-loved, widely read, and avidly collected literature from renowned authors. From Grimm's Fairy Tales to The Wonderful Wizard of Oz and from Edgar Allen Poe to Sir Arthur Conan Doyle, art lovers and book collectors alike will not be able to resist owning the whole collection.
French artist Yann Legendre takes readers on a beautiful journey through the stories by the brothers Grimm, with his luscious imagery. These stories take on a whole new meaning when accompanied by Legendre's mystical, colorful interpretations. This edition of the Classics Reimagined series will excite and enthrall all!?
About the Author
Yann Legendre is an internationally recognized illustrator, designer and art director based in Paris. His illustrations have appeared in the Wall Street Journal, the New York Times, The New Yorker, The Reader, Perspective Magazine, le Monde... He is the art director of the French publisher Inculte, designing each book cover and every illustrated book series. He regularly creates illustrations for Universal Music in London, the Steppenwolf Theater in Chicago, Janus Films and the Criterion Collection in New York. In 2011, CB2 (Crate & Barrel) commissioned him to illustrate a new collection of furniture called "Fresh Ink". In 2010 he started a collaboration with the filmmaker Joe Swanberg, designing and illustrating all of the director's movie posters. Yann received an Award of Excellence for the best movie poster design from the South by Southwest Film Festival.
Wilhelm Grimm (1786-1859), German author and cultural researcher, was one half of the Grimm Brothers; authors of some of the most popular and best-known European fairy tales. He was born in the town of Hanau, in what was at the time the Holy Roman Empire. He was a graduate of the University of Marburg.
The Brothers Grimm, Jacob (1785-1863) and Wilhelm (1786-1859), who today are among the most popular and best-known storytellers of folk tales, were German linguists and cultural researchers who gathered and published their influential collections of legendary folklore during the 19th century.
Praise For Classics Reimagined, Grimm's Fairy Tales…
"Legendre's art pairs well with the Grimms' surreal, daring, and surprisingly adult fairy tales." - Entertainment Weekly