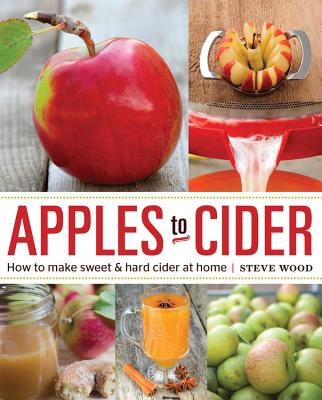 Apples to Cider
How to Make Cider at Home
Paperback

* Individual store prices may vary.
Description
Make great cider at home with just a few ingredients and minimal equipment--with some help from Stephen Wood and the crew behind Farnum Hill Ciders.
In Apples to Cider, these cidermakers and their colleagues share decades of experience and a simple philosophy: Cider is all about the apples. Whether you are a home brewer, a home winemaker, or simply a cider lover, you can join the growing community of cidermakers that are reviving this thousand-year-old craft. With these easy-to-follow instructions for first-time cidermakers and advanced techniques for the more experienced, you'll be on your way to making your own delicious cider at home.
Inside you'll find:
Step-by-step instructions for making your first batch of still cider
A guide to tasting cider like a professional
Troubleshooting tips for preventing, diagnosing, and correcting the most common cider flaws
Advanced home cidermaking techniques for sparkling cider, methode champenoise cider, French-style cidre, and ice cider
Praise For Apples to Cider: How to Make Cider at Home…
"I found this book to be very informative on quite a high level of expertise. It is billed as being for hobbyists, but I learned a lot, and I am from an old apple growing and cider making family. The professional writing frames the raw intelligent info from the god father of American Hard Cider, Steve Wood. It all comes together in a very pleasant way. Apples to Cider is a good informative read." - Harry K. Ricker, Ricker Hill Orchards, 8th generation apple farmer
"In recent years, craft ciders have been finding space on the shelves of wine and beer shops across America, a trend sure to inspire home brewers. White (Philadelphia Chef's Table) and Farnum Hill Cider proprietor Wood have created a guide to making hard cider for beginners. The authors begin with information about the roots of hard cider in America, giving the history and styles of cider (traditional English, French methode champenoise, etc.). Next the coauthors address the prep required before you even have the juice, focusing on equipment, types of apples to use, and how to set up the fermentation space, as well as information about the very important skill of tasting. In addition to step-by-step directions for the actual cider making, they suggest ways each new batch can be used to evaluate and further improve ciders. VERDICT: This book is a fine introduction to the basics of hard cider and will surely pique the interest of home brewers looking to stretch beyond beer and wine." - Library Journal
Quarry Books, 9781592539185, 152pp.
Publication Date: February 15, 2015
About the Author
Stephen M. Wood started Poverty Lane Orchards and Farnum Hill Ciders twenty years ago when he bought the New Hampshire orchard where he had spent summers as a boy. Today, that orchard is the largest plantation of cider apples in the United States. Before coming to cider, Wood collaborated on television documentaries, worked on a hard-rock mining crew in Colorado, and picked up a degree in History from Harvard.
April White's craving for good food and great stories has taken her from the kitchens of Philadelphia to the goat farms of Tuscany, the paladares of Havana, and the tchouk huts of West Africa. The award-winning food writer penned Chickens in Five Minutes a Day with the staff of Murray McMurray Hatchery and Get Your Goat with goat farmer Brent Zimmerman. She is also the author of The Philadelphia Chef's Table and other cookbooks. See her latest work at aprwhite.com.