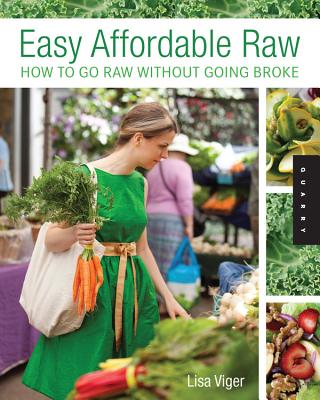 Easy, Affordable Raw (Paperback)
How to Go Raw on $10 a Day
Quarry Books, 9781592539291, 176pp.
Publication Date: August 15, 2014
* Individual store prices may vary.
Description
Easy, Affordable Raw kickstarts your raw food lifestyle with everything that you need to know. How do I organize my kitchen? What kind of ingredients should I buy? Pie for breakfast? Lisa Viger, author and raw food expert, easily breaks down the raw food lifestyle including health and environmental benefits of a raw food diet. She also answers common questions about nutrition, protein, and energy. With more than 100 recipes that are affordable, simple, and quick to prepare, you'll be enjoying a better-feeling, cleaner body in no time. Inside you'll find fantastic salads, entrees, desserts, condiments, cheeses, and more! Make amazing recipes like: Grapefruit Pear and Candied Nut Salad with Blood Orange Dressing, Almond Pumpkin Seed Vanilla Dried Cherry Cereal, and Avocado and Arugula Pizza! Easy, Affordable Raw is a practical handbook and recipe book that makes the raw food lifestyle totally accessible for anyone, anywhere, even on a smaller budget.
About the Author
Lisa Viger is a prominent raw food blogger at www.rawon10.com. Her recipes have appeared in One Green Planet, The Huffington Post, and other publications. She has also participated in podcasts, seminars, and local events, and she is expanding into teaching raw food classes.