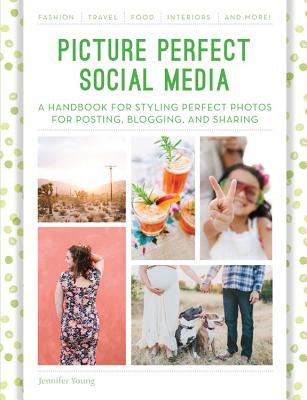 Picture Perfect Social Media: A Handbook for Styling Perfect Photos for Posting, Blogging, and Sharing (Paperback)
A Handbook for Styling Perfect Photos for Posting, Blogging, and Sharing
Quarry Books, 9781592539352, 176pp.
Publication Date: June 15, 2014
Description
No matter how you choose to share your picturesa whether through Instagram, Pinterest, Flickr, or blogginga having great images is an essential way to connect with people worldwide and get noticed on the social media scene. "Picture Perfect Social Media" gives you the skills you need to stand out, proving you don't need a professional stylist or photographer to create and share stunning images.
"Picture Perfect Social Media" is a guide to the craft of photography, designed to help improve your images no matter what your choice of subjecta from culinary adventures in your kitchen, to that once-in-a-lifetime trek through the Andes or your passion for fashion and designa regardless of what equipment you have at your disposal, whether a smartphone or a DSLR.
Packed full of essential, practical advice as well as stunning visual inspiration, "Picture Perfect Social Media" is the perfect resource for any social media savant looking to improve his or her photography skills and share visually exciting images. What's more, it also features valuable advice form prominent, international lifestyle bloggers, giving you a helpful insight into their working methods as well as plenty of tips from the pros.
About the Author
Jennifer Young is a lifestyle, portrait, and travel photographer and blogger working out of Los Angeles and San Luis Obispo, California. A self-taught photographer and author of I ART U, Jennifer blogs about a number of subjects including art, design, community, food, and travel.
Advertisement