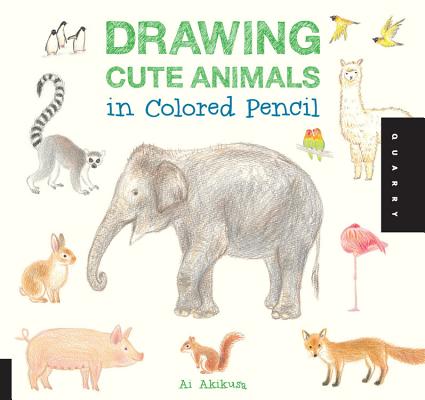 Drawing Cute Animals in Colored Pencil (Paperback)
Quarry Books, 9781592539369, 112pp.
Publication Date: March 1, 2014
* Individual store prices may vary.
Description
Drawing Cute Animals in Colored Pencil offers simple step-by-step drawing instructions that help you to learn how to draw your favorite animals. Adorable animals like rabbits, squirrels, deer, and pigs come alive with vibrant color and beautiful detail. Using colored pencils learn tips and techniques to easily draw an elephant, polar bear, lion, alpaca, hippopotamus, and more adorable creatures.The instructions are simple to follow, but detailed enough so anyone can easily achieve great success in replicating each figure. Author Ai Akikusa loves animals and she shares interesting details about each animal in each section. Enjoy Drawing Cute Animals in Colored Pencil as a guidebook to animals and drawing in color!
About the Author
Ai Akikusa is a Japanese artist, illustrator, and picture books author based in Tokyo. She graduated from the Department of Graphic Design, Tama Art University. After working at the Nakamori Design Office she is now working as a freelance artist. Some of her publications to date are as follows: Easy-to-use Coloring Pencils, Cute Animals with Coloring Pencils, Let's Go To the Zoo, Buk's Baby, Me and My Little Popofu, The Hairy One, Asahiyama Zoo, Parudemar the Bear, and Little Puddle.
Join author and animal lover Ai Akikusa as she breaks down even the most complex of creatures and shares interesting details about each animal along the way.
Praise For Drawing Cute Animals in Colored Pencil…
"This guide offers exercises and tips for rendering a wide variety of animals naturalistically in colored pencil. It is loaded with simple exercises that walk the reader through drawing all sorts of wild and domestic animals worldwide, pointing out the unique details of each along the way. The ideal audience for this book is older children and tweens, for whom its contents offer an educational aspectâ?¬â?each animal's Latin species and family name is supplied as well as information about its size. ­VERDICT This guide is best for younger readers, but their parents may be charmed by it as well." â?¬â? Library Journal