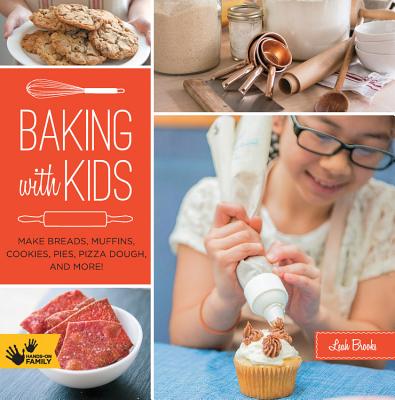 Baking with Kids (Paperback)
Make Breads, Muffins, Cookies, Pies, Pizza Dough, and More! (Hands-On Family)
Quarry Books, 9781592539772, 160pp.
Publication Date: January 15, 2015
* Individual store prices may vary.
Description
Get ready to measure, mix, and decorate! Baking with Kids is just the book you need to help teach children to bake. Show your children how to safely use basic equipment in the kitchen and explain all about the important ingredients they'll need to make the most delicious baked goods. Recipes include muffins, scones, breads, pretzels, crackers, pizza dough, pie crust, cake, cookies, cupcakes, and more! Celebrated chef and instructor, Leah Brooks creates activities with simple step-by-step photo illustrations that will guide kids through each recipe and inspire creativity throughout. Put on your aprons--it's time to get baking!
About the Author
Leah Brooks is the founder of Young Urban Modern Chefs (Y.U.M. Chefs), a San Francisco cooking school for kids. Y.U.M. Chefs holds classes, summer camps, and birthday parties for hundreds of children a year in its kitchen/classroom in the Mission District. Their focus is on changing the way kids see food, making it approachable, healthy, and fun. They also emphasize seasonality, and have a well-used classroom garden to teach growing and harvesting fresh vegetables. They're also a staple at the Noe Valley Farmers Market, where they do community outreach and hold a monthly class. They are a project of Open Mind, a non-profit dedicated to the development and education of children. Leah Brooks grew up in the beautiful Pacific Northwest, where she began her culinary career. She graduated from the Art Institute of Seattle's culinary program and worked under two of Seattle's James Beard Award winning chefs for seven years. Leah currently lives in the San Francisco Bay Area, where she shares her passion for local fresh foods with young people in her celebrated hands-on cooking classes at Young Urban Modern Chefs (Y.U.M. Chefs). Leah's work has been featured in the Wall Street Journal as well as on local Bay Area parent resource websites.