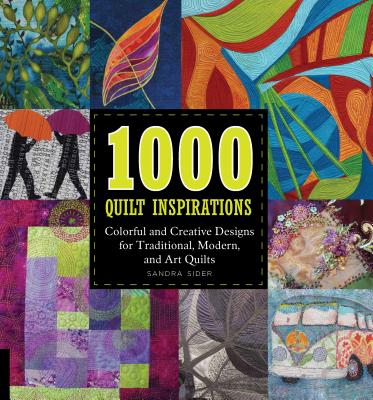 1000 Quilt Inspirations (Paperback)
Colorful and Creative Designs for Traditional, Modern, and Art Quilts
Quarry Books, 9781592539840, 320pp.
Publication Date: April 1, 2015
* Individual store prices may vary.
Description
As one of the core, traditional crafts, quilting is enjoyed by countless enthusiasts around the world - and its popularity is only growing. This collection of one thousand quilt DETAILS builds upon this interest, showcasing some of today's most innovative and beautiful WORK. See how others utilize color and design elements to craft creative pieces. Gain inspiration from their variations and intricate techniques. Maybe even CONSTRUCT your own original quilts. Whether YOU ARE a quilter or a collector, a craft-lover or an art enthusiast, 1000 Quilt Inspirations is sure to inspire your admiration and appreciation of the art of quilting. It's also likely to get you itching for some fabrics of your own!
About the Author
Dr. Sandra Sider, a New York quilt artist and independent curator, has published articles and reviews concerning fiber art and other aspects of visual culture for three decades. Her graduate degrees include an M.A. in art history from the Institute of Fine Arts, New York University. She was President of Studio Art Quilt Associates (2010-2013), and is Curator for the Texas Quilt Museum.
Praise For 1000 Quilt Inspirations: Colorful and Creative Designs for Traditional, Modern, and Art Quilts…
"More than just eye candy, the 1000 quilts shown in this book are intended to help spur your next project. Quilts by more than 300 quiltmakers from 20 countries are grouped according to style: traditional, modern, pictorial art, and abstract and conceptual. Most of the photos are detail shots that help you focus your eye on individual design elements and allow you to examine the techniques used." - Quilters Newsletter
"This beautiful book is a valuable reference tool that belongs in every quilter's library." - Quilting Arts Magazine