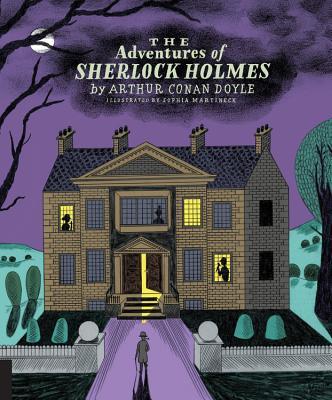 Classics Reimagined, The Adventures of Sherlock Holmes (Hardcover)
Rockport Publishers, 9781592539888, 320pp.
Publication Date: November 15, 2014
* Individual store prices may vary.
Description
An unabridged classic tale with dazzling modern illustration
The Classics Reimagined series is a library of stunning collector's editions of unabridged classic novels illustrated by contemporary artists from around the world. Each artist offers his or her own unique, visual interpretation of the most well-loved, widely read, and avidly collected literature from renowned authors. From Grimm's Fairy Tales to The Wonderful Wizard of Oz and from Edgar Allen Poe to Sir Arthur Conan Doyle, art lovers and book collectors alike will not be able to resist owning the whole collection.
Award-winning artist Sophia Martineck takes readers on a journey to 221B Baker St. and the compelling stories of Sir Arthur Conan Doyle's Sherlock Holmes, through her luscious imagery. The stories take on a whole new meaning when accompanied by Martineck's mystical, colorful interpretations. With this edition of the Classics Reimagined series, you'll always solve the mystery of what to read!
About the Author
Sir Arthur Conan Doyle (1859–1930) was a Scottish physician and prolific writer of fiction and nonfiction. He is most well known for his four novels and fifty-six short stories featuring the legendary and eccentric detective Sherlock Holmes. Holmes was modeled after Doyle's colleague, physician and surgeon Dr. Joseph Bell, who had been known for his acute powers of deductive observation. In his real life, Doyle worked in the name of justice too. He personally investigated two cases of innocent men who had been wrongfully imprisoned and helped to get them exonerated for their "crimes."
Sophia Martineck is an illustrator/artist living in Berlin. In 2010 she received the Art Directors Club Young Guns Award (for visionary artists under 30). In 2009 the notable Hans-Meid-Foundation (for German book illustration) awarded her illustrations for R. L. Stevenson's The Body Snatcher and Carson McCullers' The Heart Is A Lonely Hunter. Sophia has a great storytelling style that draws you into her world. Her style will give Holmes new energy, unlike anything you've seen from the master detective.