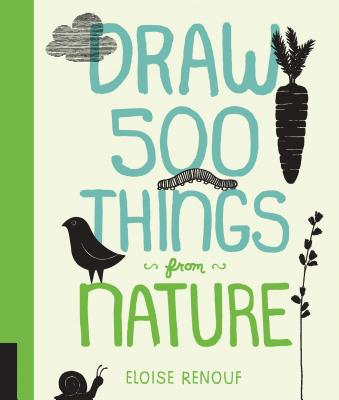 Draw 500 Things from Nature (Paperback)
A Sketchbook for Artists, Designers, and Doodlers
Quarry Books, 9781592539895, 208pp.
Publication Date: September 15, 2014
* Individual store prices may vary.
Description
This inspiring sketchbook is part of the new 20 Ways series from Quarry Books, designed to offer artists, designers, and doodlers a fun and sophisticated collection of illustration fun.

Each spread features 20 inspiring illustrated examples of 45 themes--tree, tulip, shell, owl, peacock feather, mushroom, cloud, and much, much more--over 900 drawings, with blank space for you to draw your take on 20 Ways to Draw a Tree.

This is not a step-by-step technique book--rather, the stylized flowers, trees, leaves, and clouds are simplified, modernized, and reduced to the most basic elements, showing you how simple abstract shapes and forms meld to create the building blocks of any item that you want to draw.

Each of the 20 interpretations provides a different, interesting approach to drawing a single item, providing loads of inspiration for your own drawing. Presented in the author's uniquely creative style, this engaging and motivational practice book provides a new take on the world of sketching, doodling, and designing.

Get out your favorite drawing tool, and remember, there are not just 20 Ways to Draw a Tree!
About the Author
Eloise Renouf graduated from university with a degree in printed textiles. She designed high-end fashion prints for two years for the Timney Fowler Design Studio in London, then moved to New York and spent another year working in design studios, again designing prints for fashion. She established her own stationery business with her partner in 2001; for 8 years, they have designed and published their own greetings cards, selling to stores both domestically and internationally. In addition, she designs giftware and has done commissions for organizations such as UNICEF. She also teaches part time on the textiles degree course at Nottingham Trent University. Eloise is also the author of the best-selling Quarry book 20 Ways to Draw a Tree and 44 Other Nifty Things from Nature. Eloise has a keen interest in mid-century art and design that influences her design aesthetic. Imagery, textiles, children's book illustrations, and home interiors from the 1950's, 60's, and 70's contribute to her unique, appealing style.
View her work online at www.etsy.com/shop/EloiseRenouf.
Praise For Draw 500 Things from Nature: A Sketchbook for Artists, Designers, and Doodlers…
"This series takes a novel, minimalist approach to art instruction. Each "20 Ways" title provides 45 spreads that are each filled with 20 small drawings on a given theme. REaders will find no step-by-step exercises here; however, each spread offers a variety of styles and techniques. Drawings range from the realistic to the cartoonish to the decorative, with a few rendered in color. The variety of drawing types is intended to inspire readers to experiment on their own. ASpiring artists can either copy drawings directly from the book or create their own variations on a theme. The latest two volumes in the series focus on nature and animals. 20 Ways To Draw a Tree presents many sophisticated, modern drawings of plants and flowers, executed with a surprising array of materials. Despite the title, 20 Ways To Draw a Cat includes all sorts of animals, such as hedgehogs, buffalo, fish, and zebras. VERDICT While Tree will appeal to teens or adult readers, Cat is most appropriate for younger audiences." - Library Journal
or
Not Currently Available for Direct Purchase