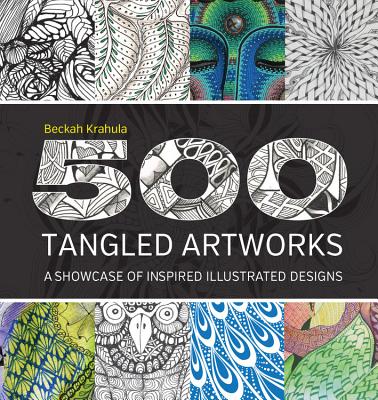 500 Tangled Artworks (Paperback)
A Showcase of Inspired Illustrated Designs
Quarry Books, 9781592539932, 176pp.
Publication Date: February 15, 2015
* Individual store prices may vary.
Description
Become inspired by this vast collection of meditative drawing tiles known as tangles! 500 Tangled Art Works, curated by Beckah Krahula, author of the bestselling book, One Zentangle a Day, is the first book to feature a large and wide-ranging collection of exciting, beautiful, and experimental drawings.

Tangles, a one to four stroke repetitive pattern used in a meditative art form called Zentangle(TM), are showing up all over the world in drawings, paintings, and many forms of mixed media art. With an introduction and history of this zen art form, 500 Tangled Art Works shares basic techniques, and features a cutting edge collection of the latest and greatest drawing from this contemporary movement. After seeing this amazing assortment of art, it will be easier than ever to start tangling on your own!
About the Author
Beckah Krahula is an artist, consultant, product designer, industry expert, and author of One Zentangle a Day (Quarry Books, 2012) and 500 Tangles, (Quarry Books, 2015). She began her career with the first graphic rubber stamp company in the US, and has worked as a full-time mixed-media artist ever since. She has worked for publishers, toy designers, and product manufacturers. In February of 2011, she became a certified Zentangle teacher. She lives in Houston, Texas.