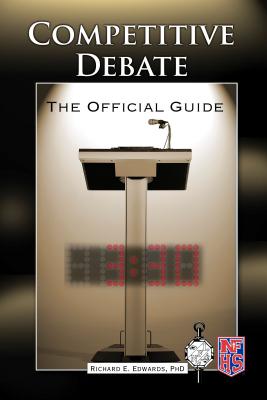 Competitive Debate (Paperback)
The Official Guide
Alpha, 9781592576937, 384pp.
Publication Date: June 3, 2008
* Individual store prices may vary.
Description
The bible for debaters and their coaches.

Nearly every high school and college in America has a debate club and/or a debate team. There are hundreds of competitions at the county and state level, culminating in heated national competitions. Yet, at many high schools and colleges, coaches are drawn from the history or English departments with little or no experience in the highly structured procedures of this popular discipline. And while competitive debate has been growing each year as a prime academic activity, there have been no popular handbooks to help students and coaches prepare for contests effectively and efficiently. Practical and authoritative, this guide includes not only tips and guidelines for effective preparation and delivery, but full-length, actual transcripts of successful competitions in each format. Endorsed by the two national governing bodies for competitive debate—the National Federation of State High School Associations and the National Forensic League—and priced for the budget-conscious student and high school teacher alike, Competitive Debate: The Official Guide is set to become the instructional "bible" for tens of thousands of present and future debaters and their coaches. Inside, Dr. Richard Edwards—award winning debate coach, professor, former competitive debate judge, and author—leads readers through the three popular formats of competitive debate:

• Policy Debate
• Lincoln-Douglas Debate
• Public Forum Debate
About the Author
Richard Edwards, PhD, is a professor of communication studies at Baylor University and a seasoned college debate coach. A director of numerous national debate competitions, he has held executive positions in both the National Forensic League's National Tournament and the intercollegiate National Debate Tournament. In 2006, he was inducted into the prestigious High School Hall of Fame of the National Federation of High Schools for his contributions to high school speech and debate.