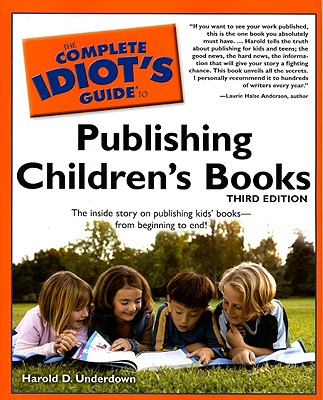 The Complete Idiot's Guide to Publishing Children's Books, 3rd Edition (Paperback)
Alpha, 9781592577507, 384pp.
Publication Date: May 6, 2008
* Individual store prices may vary.
Description
"Honest and precise… everything about writing for children there is to know."
—Jane Yolen, author

Here is the comprehensive guide to writing, publishing, and selling for the ever-expanding and always exciting children's market—now in a new and updated third edition.

• Includes new chapters on self-publishing and on "how to choose a how-to", plus revision and updates throughout
• Offers practical advice on getting started--and on dealing with out-of-print books
• Covers picture books, chapter books, nonfiction, middle-grade and young novels, and common formats and genres
• Reveals what happens inside a children's publishing company, and provides guidance in working with an editor
• Sample cover and query letters, manuscript format, glossary, and recommended resources in an extensive appendix
• Plus information on agents, contracts, copyright, marketing, and more
About the Author
Harold Underdown is an experienced children's book editor and former editorial director for Charlesbridge Publishing. He served as VP, editorial, for iPicturebooks and has served as editor for children's divisions at Orchard and Macmillan. He is a frequent speaker at writer's conferences, training new writers on the ins and outs of the children's book market, and maintains The Purple Crayon (www.underdown.org), a website on children's publishing. Currently, he is an editorial consultant in New York.
Praise For The Complete Idiot's Guide to Publishing Children's Books, 3rd Edition…
"If you want to see your work published, this is the one book you absolutely must have. Why? Because Harold tells the truth about publishing for kids and teens; the good news, the hard news, and the information that will give your story a fighting chance. This book unveils all the secrets. I personally recommend it to hundreds of writers every year."
--Laurie Halse Anderson, author of Speak, Fever 1793, and Twisted

"Having worked as both editor and author, Harold Underdown is a knowledgeable and sympathetic guide to the often bewildering world of writing and publishing books for young people. The Complete Idiot's Guide to Publishing Children's Books is encouraging without pandering, realistic but not pessimistic, thorough and generous. I wish this book had been around when I first started out!"
--Linda Sue Park, Newbery Medalist

"What a thorough and useful book! A guided tour of children's book and magazine publishing that never skips a step. For seasoned writers and illustrators it is valuable. For beginners, it is essential. I learned plenty!"
--Gail Carson Levine, Newbery Honor winner

"My life would have been much easier if The Complete Idiot's Guide to Publishing Children's Books had been available when I was getting started! It covers the whole territory--though I particularly like the sections on revision and 'the publishing maze.' Consider it your cheat-sheet to the world of children's publishing."
--Cynthia Leitich Smith, fiction author and owner of Cynsations

"With each new edition, this amazing resource gets better and better. Just when you think Harold has said all that can be said to help writers understand the complex world of children's publishing, he offers something new. An eye-opening tool for new writers, and a vital support to any writing career, this book always perches near the top of my reference pile so I can snatch it quickly to find the answers I need. If you truly want to understand this business, this book's for you."
--Jan Fields, author and owner of Kid Magazine Writers