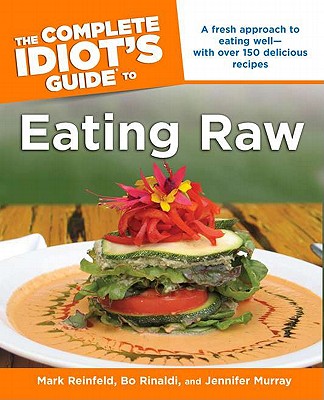 The Complete Idiot's Guide to Eating Raw (Paperback)
A Fresh Approach to Eating Well with Over 150 Delicious Recipes
Alpha, 9781592577712, 352pp.
Publication Date: July 1, 2008
* Individual store prices may vary.
Description
A raw food diet is a purely healthy diet.

More people than ever are turning to a raw food diet. In this guide, readers will find the secrets to raw food weight loss; how raw foods can heal the body and boost energy and enthusiasm; information on the anti-aging properties of raw food; and 100+ recipes that show how raw foods can be combined into delectable meals.

• Fully explains the benefits of this increasingly popular diet choice, plus presents a mini cookbook that gets readers started on their new regimen
• Recently published studies indicate that rheumatoid and fibromyalgia patients—who number in the millions—can benefit from an uncooked vegan diet rich in antioxidants, lactobacilli, and fiber
About the Author
Mark Reinfeld, recipient of the 2006 Platinum Carrot Award for living foods, is the founding chef of Blossoming Lotus restaurant, winner of the Honolulu Advertiser's 2006 Ilima Award for Best Restaurant on Kaua'i. His cookbook, Vegan World Fusion Cuisine, coauthored with Bo Rinaldi and with a foreword by Dr. Jane Goodall, has won nine national awards. He has been preparing gourmet vegan and live-food cuisine for more than 15 years.Bo Rinaldi is a chef, and a founder, leader, and visionary pioneer of the organic food movement. A best-selling co-author of cookbooks such as Vegan Fusion World Cuisine, The Complete Idiot's Guide® to Eating Raw, The Complete Idiot's Guide® to Green Smoothies, and The Complete Idiot's Guide® to Low-Fat Vegan Cooking. Bo enjoys sharing his knowledge to help others understand the wonders of creating healthy, natural, and delicious fare. He has been featured on CNN, NPR, The Thom Hartmann Program, The Aware Show, and Healing With The Masters, as well as in articles in The New York Times, Newsweek, and Fast Company.Jennifer Murray played an integral role in the menu development for Blossoming Lotus Restaurant.
Praise For The Complete Idiot's Guide to Eating Raw: A Fresh Approach to Eating Well with Over 150 Delicious Recipes…
"I've seen a lot of raw foods books over the years, but none has left me so impressed."
—Erik Marcus

"Recipes so good you may want to eat this book."
—Woody Harrelson, actor

"The Complete Idiot's Guide® to Eating Raw is ideal for anyone looking to seamlessly adopt eating habits that will benefit overall health and boost athletic performance."
— Brendan Brazier, pro Ironman triathlete and best-selling author of The Thrive Diet

"I love this book! Now we know that raw foods are able to take complete idiots and turn them into total geniuses! Great recipes! Wow!"
—David Wolfe, author of The Sunfood Diet Success System and Eating for Beauty.