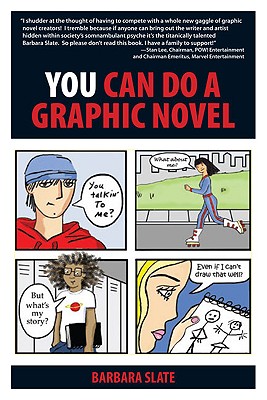 You Can Do a Graphic Novel (Paperback)
ALPHA, 9781592579556, 208pp.
Publication Date: January 5, 2010
Other Editions of This Title:
Hardcover (10/15/2018)
Paperback (10/15/2018)
Paperback (8/20/2014)
* Individual store prices may vary.
Description
Get that story out of your head and onto paper!

A guide to creating graphic novels- presented in the form of a graphic novel- from a veteran in the field!

In You Can Do a Graphic Novel, Barbara Slate guides aspiring graphic novelists through the same process she learned in her early days working for Marvel and DC Comics-a process she has simplified for the classes she teaches and for the syndicated column she writes. Written in the form of a graphic novel itself, the book covers all the components and shows readers how to:

*Find their own drawing style regardless of ability

*Create memorable characters, compelling plots and subplots, and engaging dialog

*Traverse the graphic novel business
About the Author
Barbara Slate is the author of over 300 comic books and graphic novels. She created "Angel Love" for DC Comics; created, wrote, and drew "Yuppies from Hell" and "Sweet XVI" for Marvel; and put her own spin on the Disney classics "Beauty and the Beast, Pocahontas, " and Mattel's Barbie. Her first character, Ms. Liz, appeared on millions of greeting cards, in "Cosmopolitan," and on the "Today" show. Her latest graphic novel is entitled "I Got Married and Other Mistakes."
Praise For You Can Do a Graphic Novel…
"I shudder at the thought of having to compete with a whole new gaggle of graphic novel creators! I tremble because if anyone can bring out the writer and artist hidden within society's somnambulant psyche it's the titanically talented Barbara Slate. So please don't read this book. I have a family to support!"
-Stan Lee, Chairmain, POW! Entertainment and Chairman Emeritus, Marvel Entertainment

"Along with all your art supplies, favorite chair, and a good light over your drawing board, you must keep a copy of Barbara Slate's new book You Can Do a Graphic Novel close by. Every chapter is a little gem to help any young (or old) artist/writer. Barabara and I have been friends and co-workers on hundreds of stories and other art projects. I congratulate her on this terrific book and watch out for all my new competition coming into the business after they read Barbara's book.
-Stan Goldberg, legendary Archie artist

"Barbara Slate has captured the creative process with all its tortures and delights, and produced a great guidebook to anyone who wants to unleash their inner creativity."
-Paul Levitz, President and Publisher, DC Comics

"Get ready! Barbara will get your creative juices flowing."
-Victor Gorelick

"Attention, hopeful comic writers: Barbara Slate has given you a helping hand with You Can Do a Graphic Novel, a colorful, funny, and user-friendly way to attain your goal. With Slate's perfect combination of brightly illustrated tips and no-nonsense rules, you'll find that You Can Do a Graphic Novel!"
-Trina Robbins, Writer/Historian, Comics Creator (Author of A Century of Women Cartoonists)
or
Not Currently Available for Direct Purchase