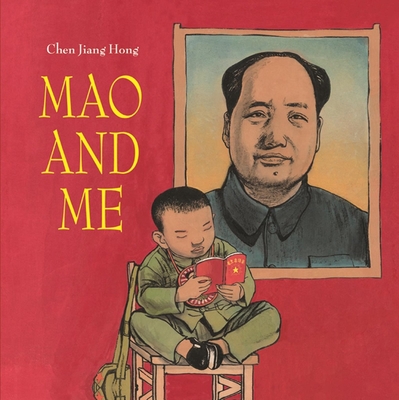 Mao and Me (Hardcover)
The Little Red Guard
Enchanted Lion Books, 9781592700790, 96pp.
Publication Date: October 1, 2008
* Individual store prices may vary.
Description
Chosen for the 2009-2010 Great Lakes Great Books Award ballot for grades six to eight
Starred reviews in Publishers Weekly and School Library Journal
"In its excellence in representing political upheaval through the eyes of a child, this book belongs next to Peter Sis's The Wall; in its directness, next to the work of Allen Say. The indefatigable energy of Chen's brush, though, is all his own."--Publishers Weekly
About the Author
Chen has been creating beautiful, entertaining, and deeply moving picture books over the past twelve years. To depict the old culture of ancient China, he has relied upon myth and legend in many of his books.
Praise For Mao and Me: The Little Red Guard…
Skipping Stone Award 2010

Selected for the 2009/2010 Great Lakes Great Books Award ballot for grades 68.

Editor's Choice Award, Library Media Connection

"Chen Jiang Hong was a small boy when this tumultuous period began, and in these illustrated pages he captures the bewildering cruelties wreaked on the people of his neighborhood in a northern Chinese city. [...] What makes this memoir especially interesting - and thought-provoking - is the way Chen conveys the consuming political hysteria of the time: Having witnessed the awful acts on Mao's cultural shock troops, the boy was nonetheless thrilled when, at 8, he was finally old enough to wear the armband of the Little Red Guard." - Meghan Cox Gurdon, The Wall Street Journal

In its excellence in representing political upheaval through the eyes of a child, this book belongs next to Peter Sís's The Wall; in its directness, next to the work of Allen Say. The indefatigable energy of Chen's brush, though, is all his own." Publishers Weekly, Starred Review

"This powerful work joins [the] growing list of outstanding memoirs about the ear." - School Library Journal, Starred Review

"The beautifully detailed, somber ink and watercolor paintings vibrantly capture 1960s China from a child's perspective, and the generous page size allows Chen free reign in laying out and sequencing his images: half a dozen small paintings of ration tickets and scarce foodstuffs along the top of one page, for example, or a dizzying panorama of crowds at a rally sprawling across two others. The prose is lean and elegant, but the story it recounts is hardly bedtime material. With this intensely personal family history, Chen moves into Art Spiegelman territory, marking Mao and Me as a Cultural Revolution counterpart to Maus, slighter and more understated but with a similar emotional punch." - Jing Daily

"Chen Jiang Hong combines his skills as author and illustrator in this exquisite tale of his own childhood in China. Through simple prose and traditional Chinese style of art, the author reveals seemingly innocent details of a child's life during the Cultural Revolution. The underlying story is both revealing and heartbreaking, its elegant subtlety drawing shivers down the reader's spine.

Marketed as a children's book, Mao and Me is so much more than an entertaining story. The watercolor illustrations set the tone for the narrative, their crisp details a sharp contrast to the spare words that reveal the tragedy of the larger story. This is a book that should be read by parents and children together, so that the unspoken history can be elaborated. Mao and Me, while describing life at a particular time in a particular place, is also a cautionary tale for every culture and generation." - Deborah Adams, Curled Up With a Good Kid's Book