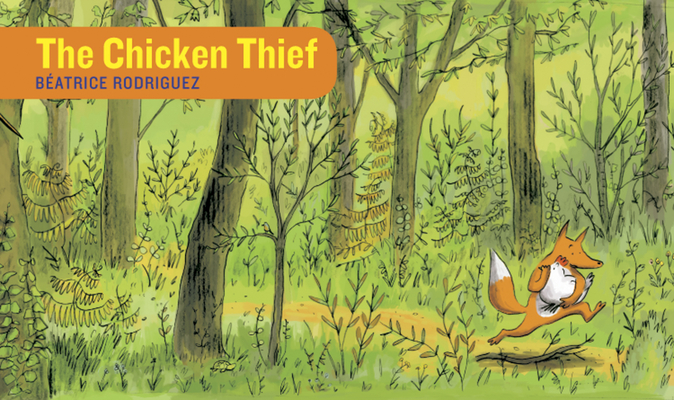 The Chicken Thief (Hardcover)
Enchanted Lion Books, 9781592700929, 32pp.
Publication Date: May 1, 2010
* Individual store prices may vary.
Description
In this wordless story that is both funny and sweet, a fox steals a hen away from her home. Bear, rabbit, and rooster give chase, but in a twist on the usual children's story, this fox is not a villain. Rather, he tenderly holds hen as he runs into the night. A funny and life-affirming story, The Chicken Thief defies expectations, enlivening the mind with its cleverness while going straight for the heart. This intelligent and charming book is great for all ages. A love story, a road movie, and a playful speculation on stereotypes and misconceptions, The Chicken Thief makes for an unforgettable reading experience
B atrice Rodriguez was born in 1969. She received her degree from the School of Decorative Arts in Strasbourg, France, and works today as an illustrator, creating children's books as well as pictures for the press. She lives in France.
Praise For The Chicken Thief…
Publisher's Weekly Best Children's Books of 2010

School Library Journal Best Children's Books of 2010

A CCBC Choice, 2011

ABC Best Books for Children

Nominated for the Texas 2x2 Reading List

Nominated for the Rainbow Project

Capitol Choices 2011 Notable Books for Children & Young Adults

"Young readers ages 4-10 will delight in Ms. Rodriguez's delicate yet assured drawings." - The Wall Street Journal

"For readers who love a good chase - and who doesn't? - this one is a delight from beginning to end." - Publisher's Weekly, Starred Review

"The story closes with a surprise that kids will love [...] The layout is a great showcase for the wonderful paintings, which are all full of movement, drama, and a quietly goofy form of comedy. The colors and the sense of light are lovely, especially when the clear green of the forest sets off the orange fox and his little captive. A delightful wordless story." - School Library Journal, Starred Review

"Delightful ink-and-wash artwork follows the winsome animals from contryesque cottages to deep-hued night forests to bright, sunny shores. Rodriguez shifts the mood from the comic, when fox and chicken enjoy a candlelit game of chess in an inner-mountain cave, to the affectionate, and the small details invite close viewing. Taken together, the scenes in this enjoyable tale send appealing messages about the pitfalls of assumptions and the pleasure of unexpected friendship." - Booklist

"This book is delightful in every way." - PW Shelftalker

"The Chicken Thief will enthrall young readers with its tale told in exciting pictures from start to finish." - The Midwest Book Review

"A classic-to-be, this book is presented as the first in a new series of wordless concepts, a genre well worth exploring. With crisp, whimsical illustration, the author presents an amusing escapade [...] the climax will produce giggles rather than nightmares." - The Bloomsbury Review

"B. Rodriguez's The Chicken Thief and Fox and Hen Together are two of the most charming wordless picture books I've ever encountered. Check 'em out." - Nancy Pearl, nancypearl.com

"Delightful. Funny. Sweet, but not syrupy so. Don't miss this one." - Seven Impossible Things Before Breakfast

"Rodriguez has reinvented a story with a fun surprise ending." - missprint.wordpress.com

"The Chicken Thief goes on my list of superior wordless books for a child to savor." - pinkme.typepad.com

The Chicken Thief is named a top 10 book of 2010 by Hooray for Books, Old Town Alexandria, VA.

The Mystery Bookstore top ten for 2010, The Mystery Bookstore, Los Angeles.
or
Not Currently Available for Direct Purchase