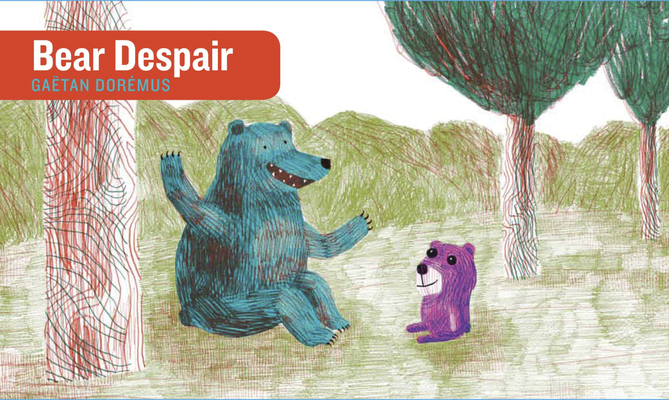 Bear Despair (Stories Without Words) (Hardcover)
Enchanted Lion Books, 9781592701254, 32pp.
Publication Date: September 4, 2012
* Individual store prices may vary.
Description
Don't ever take a bear's teddy bear, no matter how cute you think it is. If you do, you'll be in for trouble. Big trouble. For a bear whose teddy has been stolen isn't simply heartbroken, but determined to get it back. So determined that he might just gobble up more than honey to do so However, should he succeed in getting his teddy back, then there just might be a surprise in store. This is a book that all readers will relish, and one they will want to read again and again.
Born in 1971, Ga tan Dor mus received his degree from the School of Decorative Arts in Strasbourg, France, in 1999, after which he picked up a few other degrees while creating picture books and illustrations for the press. Dor mus has illustrated over twenty books and has produced hundreds of freestanding illustrations and cartoons. He loves to bicycle ride, walk in the mountains, and eat green tomatoes with cinnamon. In 2006, he became a Papa.
Praise For Bear Despair (Stories Without Words)…
"A blue bear lies asleep under a tree, clutching a treasured teddy bear. A long-snouted wolf sneaks up, snatches the teddy bear, and runs off with it... There are no tiresome morals about sharing one's belongings or waiting patiently until they are found; Doremus goes straight to the frustration and rage of childhood, laying them out in 32 pages like a brisk session on an analyst's couch." -- Publisher's Weekly, starred review

"In this wordless tale, the French illustrator uses a storyboard format of large and small encircled scenes on a white page to tell an energetic and emotional tale. [...] Colorful drawings with overlays of swirling lines sweep by at a fast pace as the action grows increasingly frantic, mirroring Bear's growing anxiety. A lesson to be learned: don't mess with the teddy. An imaginative and well-designed chase." -- Kirkus Reviews
or
Not Currently Available for Direct Purchase