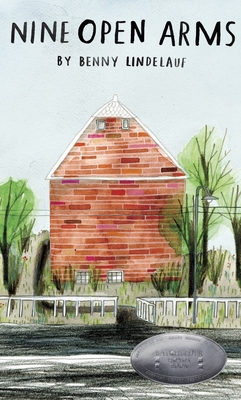 Nine Open Arms
Hardcover

* Individual store prices may vary.
Description
The Boon family story and their indefatigable gallows humor are Benny Lindelauf's literary memorial to those persecuted by history.
A ghost story, a fantasy, a historical novel, and literary fiction all wrapped into one, this highly awarded novel for young readers begins with the Boon family's move to an isolated, dilapidated house. Is it the site of a haunting tragedy, as one of the daughters believes, or an end to all their worries, as their father hopes? The novel's gripping language, enriched by Yiddish, German, and Dutch dialect, plunges the reader into the world of a large, colorful, motherless family.
Enchanted Lion Books, 9781592701469, 256pp.
Publication Date: June 3, 2014
About the Author
Benny Lindelauf is a multi-award-winning Dutch children's book author who has published twelve books in Holland, several of which have appeared in translation. He also teaches creative writing to adults and children. Nine Open Arms has been translated into six languages, including Czech and Korean, and both it and its Dutch sequel, Heivisj's Heaven, have won several prestigious awards in the Netherlands. Imagination, wit and drama are crucial ingredients in Benny's stories, where the narrative is always woven together in an exceptional way. Lindelauf once said: 'Writing is like moving from one house to the next over and over again.' In Nine Open Arms, the writing moves through many rooms and houses, even worlds.
1. The three parts of the book have distinct tones and purpose, but the multiple layers and time periods eventually connect. Why do you think the author chose to structure the book this way? How did it affect how you read the book?
2. One of the father's mottos is "First believe, then see." How do you see that applying to the overall story, and your own reading experience?
3. Fing is not an omniscient narrator since she learns the stories one by one from Oma Mei. Did you feel more connected to Fing because you were figuring out the story at the same time?
4. Who, or what, do you consider the main character? Why?
5. Nine Open Arms becomes a symbol for the many themes running throughout the book: displacement, determination, loss, love, and hope. Which characters in the book experience these emotions most strongly?
6. This book includes a "tragical tragedy," historical fiction, mystery, magical realism, humor, intricate plots, and a love story. If you were to describe the type of book it is to a friend, what would you call it? Where should it be located in a bookstore?
7. The author and translator provide a translator's note, a character list, a slang word list, a map, and a contents page. Did these additional pieces inform how you read the book? Did you find yourself referencing them often? Do they relate thematically to the interwoven narrative?
8. At the end of the book, what are the strongest characteristics of the family members? What does Fing come to understand about her family?
9. What do you think will come next for these characters? Consider the time period. Could WWII affect this somewhat magical folkloric world? What has the narrative thread about the travelers already taught us about "otherness" in Europe at this time?
10. Did knowing the book was a translation effect how you read the book? Or, if you did not realize it was a translation, does it change how you think back to it now?