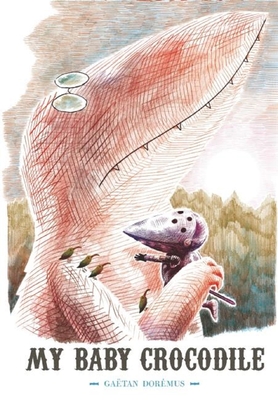 My Baby Crocodile (Hardcover)
Enchanted Lion Books, 9781592701926, 56pp.
Publication Date: April 12, 2016
* Individual store prices may vary.
Description
Told from two different perspectives, My Little Crocodile is about a chance meeting between a crocodile and what he believes to be a "baby crocodile." This meeting profoundly changes their lives, which then continue along their own individual paths, though the bonds of love and intimacy remain. The story plays with ideas about the relationship between parent and child as well as with those about how how deeply chance and the choices we make affect us throughout our lives.
Born in 1971, Ga tan Dor mus received his degree from the School of Decorative Arts in Strasbourg, France, in 1999, after which he picked up a few other degrees while creating picture books and illustrations for the press. Dor mus has illustrated over twenty books and has produced hundreds of editorial illustrations and cartoons. He loves to bicycle ride, walk in the mountains, and eat green tomatoes with cinnamon. In 2006, he became a papa.