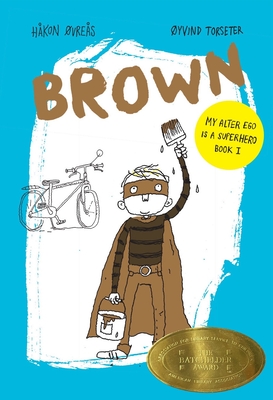 Brown (My Alter Ego Is a Superhero) (Hardcover)
Enchanted Lion Books, 9781592702121, 136pp.
Publication Date: June 4, 2019
Other Editions of This Title:
Paperback (6/4/2019)
* Individual store prices may vary.
Description
New in the neighborhood and hounded by fort-wrecking bullies, Rusty is looking glum. And to top it all off, his grandfather has just died. Rusty is stuck sorting out his emotions while the adults are busy sorting out the "practicalities" with the hospital. But one dark night, after watching a superhero movie on TV, Rusty gets an idea... Dressed in brown pants, a black-and-brown striped shirt, a brown mask and cape, and his mother's brown belt, the superhero BROWN is born Guided by his grandfather's ghost, two cans of paint, and a little help from his friends, Brown can do anything Just as long as nobody's parents find out. The fantastical first book in the award-winning My Alter Ego Is A Superhero series from Norway, Brown has been sold into twenty-seven languages and is illustrated throughout by the now-familiar and beloved yvind Torseter.