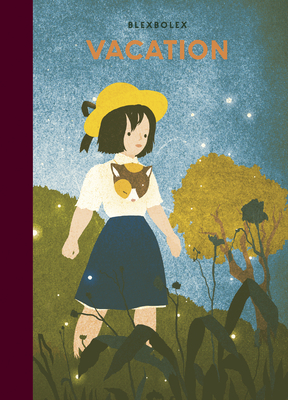 Vacation
Hardcover

* Individual store prices may vary.
Description
Recipient of the 2017 Montreuil Children's Book Salon P pite D'Or Literary Award, Silver Medalist in the 2018 Society of Illustrators Original Art Exhibition, A USBBY Outstanding International Book of 2019, and named one of The Most Astonishingly Unconventional Children's Books of 2018 by 100 Scope Notes
In this wordless story from artist Blexbolex, a young girl's idyllic vacation is interrupted by the appearance of an unexpected houseguest, and she learns how hard it can be to invite another in on the fun.
On vacation at her grandfather's home in the countryside, a young girl has thoroughly been enjoying her summer. All this time, she has had the garden, the kitchen, forest paths, the lake, and even Grandpa all to herself. So when her grandfather brings an elephant home to stay, she is not pleased at all. How will she react to this intrusion into what she believes to be her own personal space and time?
Nostalgic and often dreamlike, this wordless story is about interrupted solitude, learning to be together with another, and how the choices we make deeply affect our lives. With beautifully textured pages inside a hardcover with cloth spine, this is silent visual storytelling at its best
Enchanted Lion Books, 9781592702466, 128pp.
Publication Date: February 27, 2018
About the Author
Born in France in 1966, Blexbolex entered art school with the intention of becoming a painter, but left having discovered his talent as a silk screen artist. He works regularly with book publishers in France and Germany as an illustrator and comic book artist. His work, which is inspired by vintage design, mixes old printing methods with new interpretations and techniques. His book Seasons was selected as a New York Times Book Review Best Illustrated book of 2010.