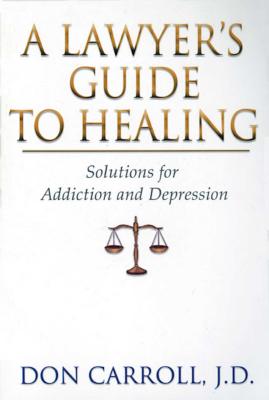 A Lawyers Guide to Healing (Paperback)
Solutions for Addiction and Depression
Hazelden Publishing, 9781592853793, 208pp.
Publication Date: September 18, 2006
* Individual store prices may vary.
Description
The definitive self-help guide for lawyers in recovery from addiction and depression

"Any lawyer or judge struggling with addiction, depression, and other problems-or assisting those who are-must read the wise and instructive book." Judge Carl Horn, author of Fourth Circuit Criminal Handbook and Lawyer Life: Finding a Life and a Higher Calling in the Practice of Law "As a lawyer speaking to other lawyers, Don Carroll provides a simple, straightforward, and very wise primer about addiction." Stephanie Brown, PH.D., author of A Place Called Self: Women, Sobriety, and Radical Transformation and director of the Addictions Institute, Menlo Park, California "This book is a gift of guidance and inspiration to lawyers seeking healing from addiction and depression and to those offering help." Al J. Mooney, M.D., coauthor of The Recovery Book. "Don Caroll provides a wealth of information regarding impairment and recovery, while never losing sight of the human side of the equation." Michael Cohen, executive director of Florida Lawyers Assistance, Inc., and member of the Florida Bar Standing Committee on Professionalism. Stress, power, and high expectations of the legal profession leave lawyers especially vulnerable to addiction. What's more, personality traits that contribute to a lawyer's success-among them, grandiosity and a need to control-can impede recovery. As director of the North Carolina Lawyer Assistance Program, Don Caroll has helped hundreds of colleagues overcome addiction and depression. In this candid and insightful book, Carroll discusses addiction in general, how addiction affects lawyers specifically, and how recovery can help lawyers reclaim their professional and personal lives.
About the Author
Don Carroll, J.D., is the director of the North Carolina Lawyer Assistance Program. He is a certified employee assistance professional and holds a juris doctorate from the University of Virginia. Don currently holds the chair on the Board of the Chemical Dependency Center in Charlotte, NC. Don has regular columns about the Lawyer Assistance Program that have appeared in the North Carolina State Bar Journal and The Campbell Law Observer. Carroll lives in Davidson, North Carolina. He has two children.
or
Not Currently Available for Direct Purchase