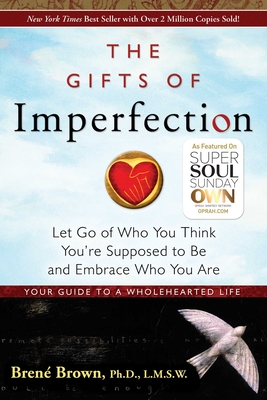 The Gifts of Imperfection (Paperback)
Let Go of Who You Think You're Supposed to Be and Embrace Who You Are
Hazelden Publishing, 9781592858491, 160pp.
Publication Date: August 27, 2010
* Individual store prices may vary.
Description
New York Times best-selling author and professor Brené Brown offers a powerful and inspiring book that explores how to cultivate the courage, compassion, and connection to embrace your imperfections and to recognize that you are enough.

Each day we face a barrage of images and messages from society and the media telling us who, what, and how we should be. We are led to believe that if we could only look perfect and lead perfect lives, we'd no longer feel inadequate. So most of us perform, please, and perfect, all the while thinking, What if I can't keep all of these balls in the air? Why isn't everyone else working harder and living up to my expectations? What will people think if I fail or give up? When can I stop proving myself? In The Gifts of Imperfection, Brené Brown, PhD, a leading expert on shame, authenticity and belonging, shares what she's learned from a decade of research on the power of Wholehearted Living--a way of engaging with the world from a place of worthiness. In her ten guideposts, Brown engages our minds, hearts, and spirits as she explores how we can cultivate the courage, compassion, and connection to wake up in the morning and think, No matter what gets done and how much is left undone, I am enough, and to go to bed at night thinking, Yes, I am sometimes afraid, but I am also brave. And, yes, I am imperfect and vulnerable, but that doesn't change the truth that I am worthy of love and belonging.
About the Author
Dr. Brené Brown is a research professor at the University of Houston where she holds the Huffington Foundation-Brené Brown Endowed Chair at The Graduate College of Social Work.

She has spent the past sixteen years studying courage, vulnerability, shame, and empathy and is the author of three #1 New York Times bestsellers – The Gifts of Imperfection, Daring Greatly, and Rising Strong. Her latest book, Braving the Wilderness: The Quest for True Belonging and The Courage to Stand Alone, will be released Fall 2017.

Brené's TED talk – The Power of Vulnerability – is one of the top five most viewed TED talks in the world with over 30 million views.

In addition to her research and writing, Brené is the Founder and CEO of BRAVE LEADERS INC - an organization that brings evidence-based courage building programs to teams, leaders, entrepreneurs, change makers, and culture shifters.

Brené lives in Houston, Texas, with her husband, Steve, and their children, Ellen and Charlie.