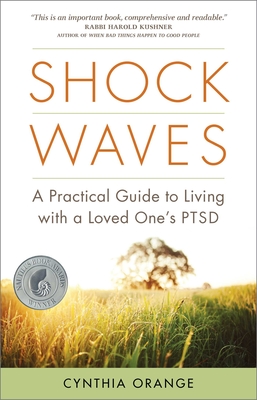 Shock Waves
A Practical Guide to Living with a Loved One's PTSD
Paperback

* Individual store prices may vary.
Description
Trauma has affected all of us this year. Cynthia Orange offers wisdom and guidance for helping ourselves and our loved ones navigate, survive, and heal from harrowing experiences and crisis-filled days.

A user-friendly guide to helping a loved one with post-traumatic stress disorder--while taking care of yourself.

In the United States, about 60 percent of men and 50 percent of women experience, witness, or are affected by a traumatic event in their lifetimes. Many of them (8 percent of men and 20 percent of women) may develop post-traumatic stress disorder (PTSD)--a life-altering anxiety disorder. Once connected mainly with veterans of war, PTSD is now being diagnosed in many situations that cause extreme trauma such as rape, physical attacks or abuse, accidents, terrorist incidents, or natural disasters. The millions of family members of those who have PTSD also suffer, not knowing how to help their loved one recover from the pain.Shock Waves is a practical, user-friendly guide for those who love someone suffering from this often debilitating anxiety disorder, whether that person is a survivor of war or of another harrowing situation or event. Through her own experience, extensive research, advice from mental health professionals, and interviews with those working through PTSD and their families, Cynthia Orange shows readers how to identify what PTSD symptoms look like in real life, respond to substance abuse and other co-occurring disorders, manage their reactions to a loved one's violence and rage, find effective professional help, and prevent their children from experiencing secondary trauma.Each section of Shock Waves includes questions and exercises to help readers incorporate the book's lessons into their daily lives and interactions with their traumatized loved ones
Hazelden Publishing, 9781592858569, 204pp.
Publication Date: May 26, 2010
About the Author
Cynthia Orange has written extensively about addiction and recovery, parenting, and post-traumatic stress disorder. She co-facilitates a caregivers' support group, and she and her husband (a Vietnam combat veteran) often speak to audiences about the effects of trauma and war in their continuing involvement with veterans and veterans' issues. She is an award-winning writer who has published hundreds of articles, columns, and guest editorials in newspapers, magazines, and literary journals. She is the author of several books, and contributed to the popular meditation book Today's Gift.Orange resides in West St. Paul, Minnesota.