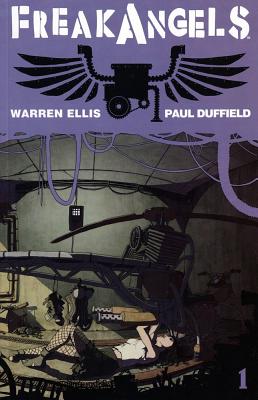 Freakangels Volume 1 (Paperback)
Avatar Press, 9781592910564, 144pp.
Publication Date: November 18, 2008
* Individual store prices may vary.
Description
Warren Ellis' hugely popular web comic, Freakangels, is here, collected in print for the first time in this gorgeous, full-color trade paperback
Twenty-three years ago, twelve strange children were born in England at exactly the same moment. Six years later, the world ended. This is the story of what happened next. So welcome to Whitechapel, some years from now, just barely above ground in a flooded England, where a clan of eleven strange people with purple eyes - the Freakangels - have carved out some sort of a life for themselves. A life that starts to show big cracks when a girl called Alice from Manchester turns up with a shotgun and a grievance, having met the lost, prodigal last Freakangel, who had very different ideas about what they should do with themselves and this flooded future England. Because the Freakangels have a big secret: Something very bad is their fault.
About the Author
Warren Ellis is the award-winning British author of comic books, novels, and television, most often recognized for his sociocultural commentary and ground-breaking work in the genre of science fiction. His most recognizable works include Transmetropolitan, Planetary, and The Authority. He maintains a consistent online presence which includes the weekly delivery of the FREAKANGELS web comic to millions of fans. Ellis has published over 25 different creator-owned projects through Avatar Press (including BLACK SUMMER, IGNITION CITY, and GRAVEL, the last of which is in development as a film through Legendary Pictures), with many more planned.
or
Not Currently Available for Direct Purchase