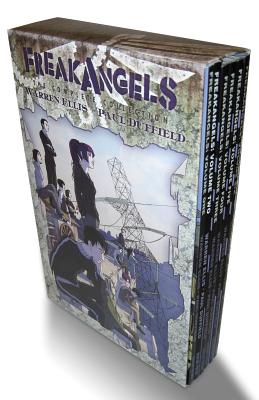 Freakangels: The Complete Collection (Boxed Set)
The Complete Collection
Avatar Press, 9781592911721, 864pp.
Publication Date: November 11, 2015
* Individual store prices may vary.
or
Not Currently Available for Direct Purchase
Description
The complete six-volume box set of Warren Ellis' enormously popular web comic, a tale of twelve psychic Londoners whose combined powers flooded the world Twenty-three years ago, twelve strange children were born in England at exactly the same moment. Six years ago, they used their psychic powers in unison and accidentally flooded the world. Today, they live in and defend Whitechapel, perhaps the last real settlement in soggy London, from the evil machinations of one of their own - a "Freakangel" gone rogue. But when Mark, the bad seed, returns and forces his old friends to expand their consciousness beyond all concepts of space and time, they discover there's something coming... something dark and terrible beyond the borders of Whitechapel, closing in for the kill. Writer Warren Ellis and artist Paul Duffield proudly present the 2010 Eagle Award-winning adventures of the Freakangels in this gorgeous box set collection of all six volumes Packaged in a sturdy slipcase featuring striking original art, never-before-seen.
About the Author
Warren Ellis is the award-winning British author of comic books, novels, and television, most often recognized for his sociocultural commentary and ground-breaking work in the genre of science fiction. His most recognizable works include Transmetropolitan, Planetary, and The Authority. He maintains a consistent online presence which includes the weekly delivery of the Freakangels web comic to millions of fans. Ellis has published over 25 different creator-owned projects through Avatar Press (including Black Summer, Ignition City, and Gravel, the last of which is in development as a film through Legendary Pictures).
Advertisement