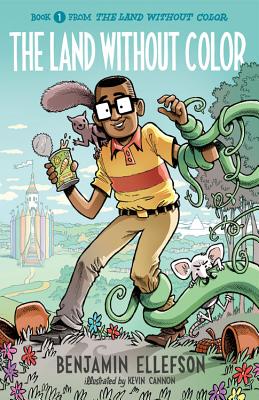 The Land Without Color (Paperback)
Beaver's Pond Press, 9781592988440, 154pp.
Publication Date: December 15, 2015
* Individual store prices may vary.
Description
Lost in a strange land where everything is gray, Alvin must find the true color thieves to save the princesses and restore the color to the kingdom.
DESCRIPTION
Floating into the air with an enormous gum bubble, Alvin lands in a strange world where everything is gray. The trees, the flowers, the dirt, the sky, the animals, and even the people are all missing their color.

Confronted with the mystery of the missing color, Alvin teams up with some unexpected friends to battle man-eating plants, outsmart the bumbling Crimson Guards, cross the Sugar Desert, overcome the two-headed dragon, and find the color-stealing goblins to restore color to the kingdom.

A lover of whimsical adventures for children of all ages, author Benjamin Ellefson studied storytelling at the University of Southern California. Now with four daughters who love to hear his stories, he focuses his writing on modern fairy tales that are fun for kids and thought provoking for adults.
or
Not Currently Available for Direct Purchase