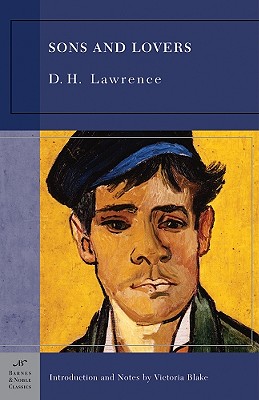 Sons and Lovers (Barnes & Noble Classics Series)
Paperback

* Individual store prices may vary.
Description
&&LDIV&&R&&LDIV&&R&&LI&&RSons and Lovers&&L/I&&R, by &&LB&&RD. H. Lawrence&&L/B&&R, is part of the &&LI&&RBarnes & Noble Classics&&L/I&&R&&LI&&R &&L/I&&Rseries, which offers quality editions at affordable prices to the student and the general reader, including new scholarship, thoughtful design, and pages of carefully crafted extras. Here are some of the remarkable features of &&LI&&RBarnes & Noble Classics&&L/I&&R: &&LDIV&&R
New introductions commissioned from today's top writers and scholars Biographies of the authors Chronologies of contemporary historical, biographical, and cultural events Footnotes and endnotes Selective discussions of imitations, parodies, poems, books, plays, paintings, operas, statuary, and films inspired by the work Comments by other famous authors Study questions to challenge the reader's viewpoints and expectations Bibliographies for further reading Indices & Glossaries, when appropriate
All editions are beautifully designed and are printed to superior specifications; some include illustrations of historical interest. &&LI&&RBarnes & Noble Classics &&L/I&&Rpulls together a constellation of influences--biographical, historical, and literary--to enrich each reader's understanding of these enduring works.&&L/DIV&&R&&L/DIV&&R&&L/DIV&&R&&LDIV&&R &&L/DIV&&R&&LDIV&&RCalled the most widely-read English novel of the twentieth century, &&LB&&RD. H. Lawrence&&L/B&&R's largely autobiographical &&LI&&RSons and Lovers&&L/I&&R tells the story of Paul Morel, a young artist growing into manhood in a British working-class community near the Nottingham coalfields. His mother Gertrude, unhappily married to Paul's hard-drinking father, devotes all her energies to her son. They develop a powerful and passionate relationship, but eventually tensions arise when Paul falls in love with a girl and seeks to escape his family ties. Torn between his desire for independence and his abiding attachment to his loving but overbearing mother, Paul struggles to define himself sexually and emotionally through his relationships with two women--the innocent, old-fashioned Miriam Leivers, and the experienced, provocatively modern Clara Dawes. &&LP&&RHeralding Lawrence's mature period, Sons and Lovers vividly evokes the all-consuming nature of possessive love and sexual attraction. Lushly descriptive and deeply emotional, it is rich in universal truths about human relationships. &&L/P&&R&&LP style=MARGIN: 0in 0in 0pt&&R&&LSTRONG&&RVictoria Blake&&L/B&&R&&L/B&&R is a freelance writer. She has worked at &&LI&&RThe Paris Review&&L/I&&R and contributed to the &&LI&&RBoulder Daily Camera&&L/I&&R, small literary presses in the United States, and English-language publications in Bangkok, Thailand. She currently lives and works in San Diego, California. &&L/P&&R&&L/DIV&&R.
Barnes & Noble Classics, 9781593080136, 512pp.
Publication Date: May 1, 2003
or
Not Currently Available for Direct Purchase