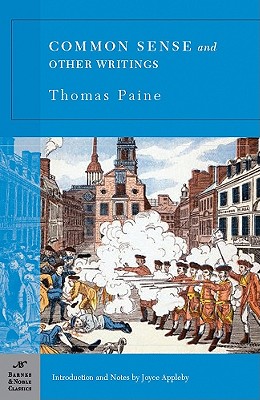 Common Sense and Other Writings (Barnes & Noble Classics)
Paperback

* Individual store prices may vary.
Other Editions of This Title:
Paperback (12/29/2011)
Description
&&LDIV&&R&&LDIV&&R&&LDIV&&R&&LI&&RCommon Sense and Other Writings&&L/I&&R, by &&LB&&RThomas Paine&&L/B&&R, is part of the &&LI&&RBarnes & Noble Classics&&L/I&&R&&LI&&R &&L/I&&Rseries, which offers quality editions at affordable prices to the student and the general reader, including new scholarship, thoughtful design, and pages of carefully crafted extras. Here are some of the remarkable features of &&LI&&RBarnes & Noble Classics&&L/I&&R: &&LDIV&&R
New introductions commissioned from todays top writers and scholars
Biographies of the authors
Chronologies of contemporary historical, biographical, and cultural events
Footnotes and endnotes
Selective discussions of imitations, parodies, poems, books, plays, paintings, operas, statuary, and films inspired by the work
Comments by other famous authors
Study questions to challenge the readers viewpoints and expectations
Bibliographies for further reading
Indices & Glossaries, when appropriate
All editions are beautifully designed and are printed to superior specifications; some include illustrations of historical interest. &&LI&&RBarnes & Noble Classics &&L/I&&Rpulls together a constellation of influences--biographical, historical, and literary--to enrich each readers understanding of these enduring works.&&L/DIV&&R&&L/DIV&&R&&L/DIV&&R&&LDIV&&R &&L/DIV&&R&&LDIV&&RThough he did not emigrate from England to the American colonies until 1774, just a few months before the Revolutionary War began, &&LB&&RThomas Paine&&L/B&&R had an enormous impact on that war and the new nation that emerged from it. &&LI&&RCommon Sense&&L/I&&R, the instantly popular pamphlet he published in January 1776, argued that the goal of the struggle against the British should be not simply tax reform, as many were calling for, but complete independence. His rousing, radical voice was balanced by the equally independence-minded but more measured tones of Thomas Jefferson, who wrote the Declaration of Independence later that year.&&LBR&&R&&LBR&&RIn later works, such as &&LI&&RThe Rights of Man&&L/I&&R, &&LI&&RThe Age of Reason&&L/I&&R, and other selections included in this volume, Paine proved himself a visionary moralist centuries ahead of his time. He believed that every human has the natural right to life's necessities and that government's role should be to provide for those in dire need. An impassioned opponent of all forms of slavery, he understood that no one in poverty is truly free, a lesson still to be learned by many of our leaders today.&&L/DIV&&R&&LDIV&&R &&L/DIV&&R&&LDIV&&R&&LDIV&&R&&LB&&RJoyce Appleby&&L/B&&R, Professor Emerita at the University of California, Los Angeles, has followed the trajectory of American nation-building in her books &&LI&&RCapitalism and a New Social Order: The Republican Vision of the 1790s&&L/I&&R, &&LI&&RInheriting the Revolution: The First Generation of Americans&&L/I&&R, &&LI&&RThomas Jefferson&&L/I&&R, and &&LI&&RA Restless Past: History and the American Public&&L/I&&R. &&L/DIV&&R&&L/DIV&&R&&L/DIV&&R.
Barnes & Noble Classics, 9781593082093, 432pp.
Publication Date: September 1, 2005
or
Not Currently Available for Direct Purchase