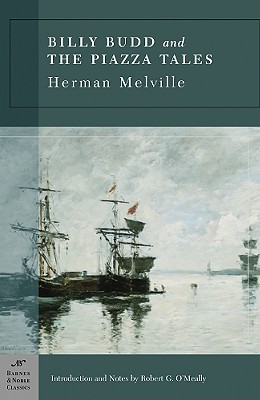 Billy Budd and the Piazza Tales (Barnes & Noble Classics)
Paperback

* Individual store prices may vary.
Description
&&LDIV&&R&&LDIV&&R&&LDIV&&R&&LI&&RBilly Budd and the Piazza Tales&&L/I&&R, by &&LB&&RHerman Melville&&L/B&&R, is part of the &&LI&&RBarnes & Noble Classics&&L/I&&R&&LI&&R &&L/I&&Rseries, which offers quality editions at affordable prices to the student and the general reader, including new scholarship, thoughtful design, and pages of carefully crafted extras. Here are some of the remarkable features of &&LI&&RBarnes & Noble Classics&&L/I&&R: &&LDIV&&R
New introductions commissioned from today's top writers and scholars Biographies of the authors Chronologies of contemporary historical, biographical, and cultural events Footnotes and endnotes Selective discussions of imitations, parodies, poems, books, plays, paintings, operas, statuary, and films inspired by the work Comments by other famous authors Study questions to challenge the reader's viewpoints and expectations Bibliographies for further reading Indices & Glossaries, when appropriate
All editions are beautifully designed and are printed to superior specifications; some include illustrations of historical interest. &&LI&&RBarnes & Noble Classics &&L/I&&Rpulls together a constellation of influences--biographical, historical, and literary--to enrich each reader's understanding of these enduring works.&&L/DIV&&R&&L/DIV&&R&&LP&&RLargely neglected in his own lifetime, &&LB&&RHerman Melville&&L/B&&R mastered not only the great American novel but also the short story and novella forms. In &&LI&&RBilly Budd and The&&L/I&&R &&LI&&RPiazza Tales&&L/I&&R, Melville reveals an uncanny awareness of the inscrutable nature of reality.&&L/P&&R&&LP&&RPublished posthumously in 1924, &&LI&&RBilly Budd&&L/I&&R is a masterpiece second only to Melville's &&LI&&RMoby-Dick&&L/I&&R. This complex short novel tells the story of "the handsome sailor" Billy who, provoked by a false charge, accidentally kills the satanic master-at-arms. Unable to defend himself due to a stammer, he is hanged, going willingly to his fate. Although typically ambiguous, &&LI&&RBilly Budd&&L/I&&R is seen by many as a testament to Melville's ultimate reconciliation with the incongruities and injustices of life.&&L/P&&R&&LP&&R&&LI&&RThe Piazza Tales&&L/I&&R (1856) comprises six short stories, including the perpetually popular "Benito Cereno" and "Bartleby," a tale of a scrivener who repeatedly distills his mordant criticism of the workplace into the deceptively simple phrase "I would prefer not to." &&L/P&&R&&LDIV&&R&&LSTRONG&&RRobert G. O'Meally&&L/B&&R is Zora Neale Hurston Professor of Literature at Columbia University, where he has served on the faculty for seventeen years; since 1999 he has been the director of Columbia's Center for Jazz Studies. He is the author of &&LI&&RThe Craft of Ralph Ellison&&L/I&&R and &&LI&&RLady Day: The Many Faces of Billie Holiday&&L/I&&R, and the principal writer of &&LI&&RSeeing Jazz&&L/I&&R, the catalog for the Smithsonian Institution's exhibit on jazz painting and literature.&&L/DIV&&R&&L/DIV&&R&&L/DIV&&R.
Barnes & Noble Classics, 9781593082536, 335pp.
Publication Date: April 1, 2006