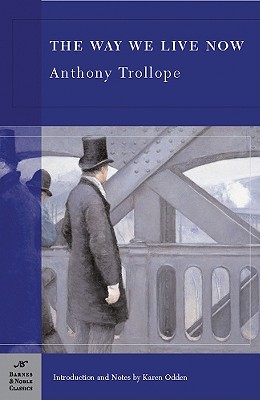 The Way We Live Now (Barnes & Noble Classics Series) (Paperback)
Barnes & Noble Classics, 9781593083045, 880pp.
Publication Date: August 1, 2005
Other Editions of This Title:
Paperback (5/12/2015)
Paperback (9/24/2013)
Paperback (9/24/2015)
Paperback (11/23/2017)
Paperback (3/11/2018)
Paperback (2/6/2019)
Paperback (3/24/2018)
Paperback (3/24/2018)
Paperback (1/1/2011)
Paperback (1/5/2011)
Paperback (10/8/2018)
Paperback (3/24/2018)
Paperback (3/24/2018)
Paperback (11/17/2016)
* Individual store prices may vary.
Description
&&LDIV&&R&&LDIV&&R&&LDIV&&R&&LI&&RThe Way We Live Now&&L/I&&R, by &&LB&&RAnthony Trollope&&L/B&&R, is part of the &&LI&&RBarnes & Noble Classics&&L/I&&R&&LI&&R &&L/I&&Rseries, which offers quality editions at affordable prices to the student and the general reader, including new scholarship, thoughtful design, and pages of carefully crafted extras. Here are some of the remarkable features of &&LI&&RBarnes & Noble Classics&&L/I&&R: &&LDIV&&R
New introductions commissioned from today's top writers and scholars Biographies of the authors Chronologies of contemporary historical, biographical, and cultural events Footnotes and endnotes Selective discussions of imitations, parodies, poems, books, plays, paintings, operas, statuary, and films inspired by the work Comments by other famous authors Study questions to challenge the reader's viewpoints and expectations Bibliographies for further reading Indices & Glossaries, when appropriate
All editions are beautifully designed and are printed to superior specifications; some include illustrations of historical interest. &&LI&&RBarnes & Noble Classics &&L/I&&Rpulls together a constellation of influences--biographical, historical, and literary--to enrich each reader's understanding of these enduring works.&&L/DIV&&R&&L/DIV&&R&&L/DIV&&R&&LDIV&&R &&L/DIV&&R&&LDIV&&RRuthless greed, relentless self-promotion, corporate swindles and scandals on a grand scale--indeed this sounds like "the way we live now." Though &&LB&&RAnthony Trollope's&&L/B&&R title actually refers to 1870s England, his scathing satire of a money-mad culture cuts close to the contemporary bone. At its center stands Augustus Melmotte, a crooked financier whose enormous schemes ensnare an array of avaricious aristocrats, politicians, and "important people." Among them are Lady Carbury, who earns the family bread by churning out fatuous potboilers (as did Trollope's mother) and her spendthrift, ne'er-do-well son, Felix, who sets his sights on Melmotte's dangerously beautiful daughter, Marie. Meanwhile, Felix's sister, Hetta, falls for Melmotte's partner, Paul, who's encumbered with an American fianc e, herself a widow who may have shot her husband. As the frauds expand and the romantic entanglements grow ever more complex, Trollope revels in the antics of his characters while pillorying the corruption of their morally bankrupt society. Nathaniel Hawthorne said it best, praising Trollope for putting England "under a glass case, with all its inhabitants going about their daily business, and not suspecting that they were made a show of."&&L/DIV&&R&&LDIV&&R &&L/DIV&&R&&LDIV&&R&&LDIV&&R&&LB&&RKaren Odden&&L/B&&R received her M.A. from the University of Michigan-Ann Arbor and her Ph.D. in English literature from New York University. Her dissertation on the medical, legal, and literary discourses that surrounded Victorian railway disasters discusses works by Trollope and his contemporaries, Wilkie Collins, Charles Dickens, M. E. Braddon, and Mrs. Henry Wood. Chapters and articles have appeared in books of literary criticism, anthologies, the &&LI&&RJournal of Victorian Culture&&L/I&&R, and &&LI&&RStudies in the Novel&&L/I&&R; she has taught at the University of Michigan, New York University, and University of Wisconsin-Milwaukee. Currently a freelance writer and assistant editor for &&LI&&RVictorian Literature and Culture&&L/I&&R, she resides in Arizona with her husband and two children.&&L/DIV&&R&&L/DIV&&R&&L/DIV&&R.
Coverage from NPR
or
Not Currently Available for Direct Purchase