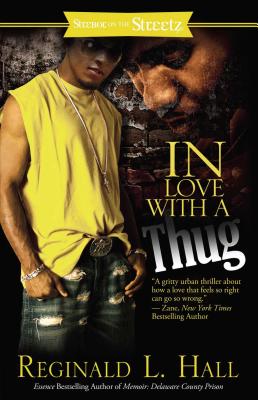 In Love with a Thug
Paperback

* Individual store prices may vary.
Description
A controversial new novel from critically acclaimed Essence bestseller Reginald L. Hall explores the attraction of dating a "bad boy" - from an entirely new angle.

During college, Juan Jiles fell in love with Darrell, who convinced Juan to help him rob one of Philadelphia's largest banks. During the heist, Darnell is killed, and Juan escapes with more than $175,000. After mourning the loss of his lover, Juan begins rebuilding his life and uses the money to open a popular celebrity hair salon.

Then along comes Bryant Thompson, a street thug with drugs, drama, and deception in tow. Juan falls in love with the hustling, muscle-bound Bryant and soon succumbs to Bryant's addictive world. Juan's life starts to spin out of control and he realizes that his meeting Bryant didn't happen by chance.

A story of a man doomed by passion, In Love with a Thug is by turns a humorous, tragic and hard-hitting look at the cost of destructive love and the price some pay for true happiness.
Praise For In Love with a Thug…
"A gripping, compelling take of what Thug Love truly means." - American Idol Winner 2004 Fantasia Barrino

"A gritty urban thriller about how a love that feels so right can go so wrong." - Zane, New York Times bestselling author

"Whew, someone turn down the heat because Reginald has it blazin' in here. A provacative scandalous story told in only a way he can tell it. How you doin'?" - Wendy Williams, The Queen of Urban Airwaves, VH1 host of "The Wendy Williams Experience" and bestselling author of Wendy's Got the Heat, Drama is Her Middle Name, and Is the Bitch Dead, or What?

"Finally a gritty black-on-black love story. Reginald's writing is dynamic and suspenseful." -- Brenda L. Thomas, Essence Bestselling Author of Threesome, Fourplay, and Every Woman's Got a Secret

"WARNING: Reginald does it again! Y'all ain't ready for this! But if you are -- get your popcorn and lock the door. You will not want to be disturbed." -- Don Diva Magazine

"I've been in love with a thug but never one like this. Reginald L. Hall has definitely put a twist on this!!" -- Kashamba Williams, Essence Bestselling Author of Driven

"Reg, do ya thang, dawg. The coolest gay dude I know. This book is gonna hit 'em hard. Do ya thang." -- Jaheim, platinum recording artist of Ghetto Love and Still Ghetto

"From the Streetz to erotic gay literature. My boy has proved his point and oh hell yes, this novel has been truly stamped hood-certified." -- Omarion, triple platinum album recording artist and former B2K lead singer

"Scandalous, controversial, and captivating! A tale of passion waiting to explode." -- Tu-Shonda L. Whitaker, Essence No. 1 Bestselling Author of The Ex Factor

"Reginald L. Hall in In Love With a Thug delivers a raw, no-holds-barred, roller-coaster of a ride that will leave you shaken and wobbly, but ultimately better because of the ride!" -- Lee Hayes, Author of Passion Marks, A Deeper Blue: Passion Marks II and The Messiah
Strebor Books, 9781593091484, 240pp.
Publication Date: August 21, 2007
About the Author
Reginald L. Hall is an Essence bestselling author and an outspoken advocate of gay rights. He has appeared on popular television talk shows, including The Ricki Lake Show, and is renowned for his controversial book Memoir: Delaware County Prison. He lives with his family outside Philadelphia. Visit his website at www.reginaldsworld.com or www.myspace.com/reginaldsworld and you can e-mail him at reginaldhall5413@aol.com