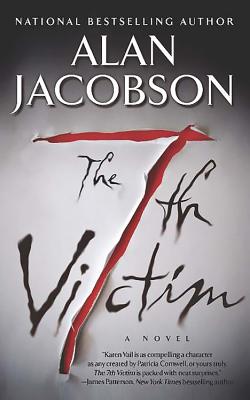 The 7th Victim
Mass Market

* Individual store prices may vary.
Other Editions of This Title:
Paperback (2/24/2015)
Compact Disc (1/1/2009)
Paperback (9/23/2008)
Description
The Dead Eyes Killer lurks in the backyard of the famed FBI Profiling Unit. His brutal murders, unlike any others previously seen, confound the local task force, despite the gifted profiling skills of Special Agent Karen Vail. But along with Vail`s insight and expertise comes considerable personal and professional baggage.
On leave pending a review of her assault on her abusive ex-husband, Vail must battle forces determined to bring her down, as she fights to find Dead Eyes before he murders more young women. But the seventh victim is the key to all that stirs this killer...the key that will unlock secrets perhaps too painful for Vail to bear. These are secrets that threaten to destroy her, secrets that will bring down her storied and promising career. For Karen Vail, the truth rests at the heart of a lie. And uncovering it could get her killed...
With material meticulously researched during seven years of study with the Bureau¿s vaunted profiling unit, Alan Jacobson brings refreshing realism and unprecedented accuracy to his pages, as he takes readers behind the scenes of the FBI Academy, where he worked with the actual profilers who have studied and interviewed twenty years¿ worth of serial killers.
Vanguard Press, 9781593155469
Publication Date: August 11, 2009
About the Author
Alan Jacobson received his bachelor of arts degree in English writing from Queens College of the City of New York, and his doctorate from Palmer College of Chiropractic West in San Jose, California. He has extensive experience testifying as an expert witness, which has exposed him to the many strengths and weaknesses of the judicial system. His previous novels include The Hunted and False Accusations. Alan lives in northern California.
or
Not Currently Available for Direct Purchase