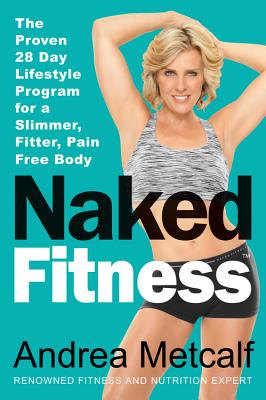 Naked Fitness
The Proven 28 Day Lifestyle Program for a Slimmer, Fitter, Pain Free Body
Paperback

* Individual store prices may vary.
Description
Naked Fitness
is not about working out in the nude. And it¿s not about being dressed in the best workout attire either.
Naked Fitness
is about stripping away all the clutter that stops you from getting your wonderful, beautiful body into the best shape possible. It¿s about breaking down the barriers and fears that are keeping you from becoming motivated and staying on track. It¿s about learning how to move your body without pain, align it to its fullest potential, and recognize how the correct alignment impacts your daily health.
Naked Fitness
is not just another exercise book. Instead, it uniquely tailors a solution specific to your body and build.
In Naked Fitness, you will look in the mirror and find your fountain of youth. Whether you are a couch potato or an agile athlete, you will learn how to look at your body and understand exactly what it needs to be in perfect alignment, and to feel and look your very best. The ¿Daily Ten¿ personalized routines are specific to which part of your spine needs alignment to function better. Whether you¿re looking to lose weight, live healthier, or improve your performance on and o+ the field, you will find the answers in Naked Fitness. You can then take your routine one step further by completing the Naked Fitness web questionnaire and download your personalized exercise routine DVD.
Vanguard Press, 9781593156183
Publication Date: December 28, 2010
About the Author
Andrea Metcalf
is a nationally recognized fitness expert and a popular media personality. In the last decade, she has been a contributor for several national publications, including
MORE
,
Self Shape
,
Women¿s World
, and
All You
. She has also appeared on the
Today
show,
GMA Health
,
Better TV
,
Living Healthy Chicago
,
The Daily Buzz
, and
Atlanta & Company
. Her web presence is vast, with blogs on BestLifeDesign.com, More.com, and, most recently, the famed Oprah.com.
For more than twenty-five years, Andrea has inspired people from all walks of life to seek to feel better. As a mother of three, Andrea¿s passions for healthy living and her unique ability to multitask inspire mothers and other individuals with a desire for fitness and a healthy lifestyle.
She lives with her family in Chicago.
or
Not Currently Available for Direct Purchase