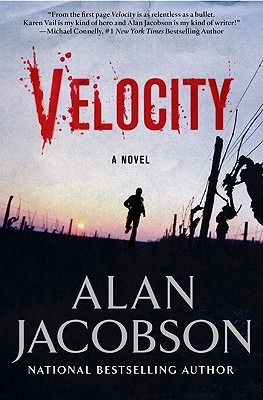 Velocity (Hardcover)
Vanguard Press, 9781593156213, 400pp.
Publication Date: October 1, 2010
Other Editions of This Title:
Compact Disc (10/5/2010)
* Individual store prices may vary.
Description
Karen Vail, the memorable heroine of The 7th Victim, stars in her third suspense thriller from Alan Jacobson.
About the Author
Alan Jacobson is the national bestselling author of the critically acclaimed thrillers "False Accusations," "The Hunted," "Crush," "Velocity," and "The 7th Victim," which was named to "Library Journal"'s "Best Books of the Year" list. Alan's years of research and training with law enforcement have influenced him both personally and professionally, and have helped shape the stories he tells and the diverse characters that populate his novels. Alan's books have sold internationally, and both "The 7th Victim" and one of his forthcoming thrillers, "Hard Target," are currently under development as major feature films. He lives in Northern California.
Praise For Velocity…
John M. Wills, NY Journal of Books
Carl Sandburg once said, "A woman is like a tea bag. It's only when she's in hot water that you realize how strong she is."

Karen Vail, the protagonist in Velocity, must be one tough cookie because she spends most of this story up to her neck in hot water. Readers were first introduced to Vail in The 7th Victim. In Velocity we once again find Vail back in wine country. The author employs an interesting method, he educates the reader about the art of wine making while weaving in a story about drug smuggling in the same milieu. Jacobson has obviously done his homework, since he uses the right lingo and terminology used by those in the industry. And just like in the second novel, Vail finds herself involved with John Wayne Mayfield, a serial killer. The twist in this story, one of many, is that Vail's boyfriend turns up missing.

The nonstop action surrounding the frenzied search for her missing boyfriend launches the reader like a steel ball in pinball machine, taking us from Napa Valley wineries, to historical Washington, D.C., to the coveted beaches of San Diego, and then to the absurd glitter of Las Vegas. What a journey! An added bonus will interest readers when they discover the lengths to which drug smugglers go to transport their illegal products. Jacobson has obviously befriended someone in the DEA: It's all spot on.

The only criticism is the sometimes over-the-top behavior of Karen Vail, in particular, shoving a gun into the forehead of an interviewee. That's pure fiction—but of course, that's what fiction is all about. It's an escape where anything can happen and usually does. Apparently, Alan Jacobson's readers don't mind this type of action. It is understandable that two of the author's books are under development as major feature films.

Jacobson writes for suspense junkies and gets the monkey off their backs; he's that good.
Michael Connelly, New York Times bestselling author
"From the first page Velocity is as relentless as a bullet. Karen Vail is my kind of hero and Alan Jacobson is my kind of writer!"
Supervisory Special Agent Michael Upchurch, Drug Enforcement Administration (ret)
"Jacobson captures the complexity of the mission faced by DEA, the threat posed to our country, and the constant danger our agents face battling members of international drug trafficking organizations. As someone who devoted his career to carrying out that mission, I can say first-hand that Velocity hits the target. Jacobson's acquired a new fan."

Ridley Pearson, New York Times bestselling author
"Alan Jacobson writes with a firm hand, a strong voice, and fine eye for detail."
or
Not Currently Available for Direct Purchase