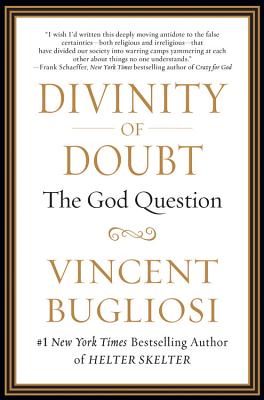 Divinity of Doubt
The God Question
Paperback

* Individual store prices may vary.
Description
Vincent Bugliosi, whom many view as the nation's foremost prosecutor, has successfully taken on, in court or on the pages of his books, the most notorious murderers of the last half century—Charles Manson, O.J. Simpson, and Lee Harvey Oswald.
Now, in the most controversial book of his celebrated career, he turns his incomparable prosecutorial eye on the greatest target of all: God. In making his case for agnosticism, Bugliosi has very arguably written the most powerful indictment ever of God, organized religion, theism, and atheism. Theists will be left reeling by the commanding nature of Bugliosi's extraordinary arguments against them. And, with his trademark incisive logic and devastating wit, he exposes the intellectual poverty of atheism and skewers its leading popularizers—Christopher Hitchens, Sam Harris, and Richard Dawkins.
Joining a 2,000-year-old conversation which no one has contributed anything significant to for years, Bugliosi, in addition to destroying the all-important Christian argument of intelligent design, remarkably—yes, scarily—shakes the very foundations of Christianity by establishing that Jesus was not born of a virgin, and hence was not the son of God, that scripture in reality supports the notion of no free will, and that the immortality of the soul was a pure invention of Plato that Judaism and Christianity were forced to embrace because without it there is no life after death.
Destined to be an all-time classic, Bugliosi's Divinity of Doubt sets a new course amid the explosion of bestselling books on atheism and theism—the middle path of agnosticism. In recognizing the limits of what we know, Bugliosi demonstrates that agnosticism is
 he most intelligent and responsible position to take on the eternal question of God's existence.
Praise For Divinity of Doubt: The God Question…
"I found myself following my wife around the house reading passages of Bugliosi's book to her out loud. I wish I'd written this wonderfully funny deeply moving antidote to the false certainties -- both religious and irreligious -- that have divided our society into warring camps yammering at each other about things no one understands."
—Frank Schaeffer New York Times bestselling author of Crazy for God: How I Grew Up as One of the Elect, Helped Found the Religious Right, and Lived to Take All (or Almost All) of It Back

"Always eloquent, this is a fascinating read."
—Publishers Weekly

"Bugliosi's arguments, while familiar, are well-reasoned, clearly presented, and provide a good introductory survey of the theist-versus-atheist-versus-agnostic debate."
—Booklist


Vanguard Press, 9781593156299
Publication Date: April 12, 2011
About the Author
Vincent Bugliosi received his law degree in 1964. In his career at the L.A. County District Attorney's office, he successfully prosecuted 105 out of 106 felony jury trials, including 21 murder convictions without a single loss. His most famous trial, the Charles Manson case, became the basis of his classic, Helter Skelter, the biggest selling true-crime book in publishing history. Two of Bugliosi's other books--And the Sea Will Tell and Outrage--also reached #1 on the New York Times hardcover bestseller list. No other American true-crime writer has ever had more than one book that achieved this ranking. The Prosecution of George W. Bush for Murder was likewise a New York Times bestseller, and Reclaiming History: The Assassination of President John F. Kennedy has been heralded as epic and a book for the ages. HBO, in association with Tom Hanks's PlayTone Productions, will be producing this as a ten-hour mini-series.
or
Not Currently Available for Direct Purchase