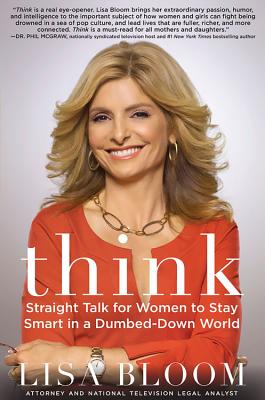 Think (Hardcover)
Straight Talk for Women to Stay Smart in a Dumbed-Down World
Vanguard Press, 9781593156596, 288pp.
Publication Date: May 1, 2011
* Individual store prices may vary.
Description
A topical, timely, and highly provocative debut work of nonfiction by nationally recognized attorney and television legal analyst, Lisa Bloom
About the Author
Lisa Bloom is an award-winning journalist, legal analyst, and trial attorney. From 2001-2009, Lisa hosted a daily, live, national television show on Court TV. She is currently the CBS News and the CNN Legal Analyst, appearing frequently on The Early Show, and on CNN and HLN prime time shows. She is a regular legal expert on The Dr. Phil Show and in the last year has guest-hosted Larry King Live, The Early Show, and Showbiz Tonight. Lisa graduated early and phi beta kappa from UCLA and then from the Yale Law School. She currently lives in Los Angeles.
Praise For Think: Straight Talk for Women to Stay Smart in a Dumbed-Down World…
"Think is a real eye-opener. Lisa Bloom brings her extraordinary passion, humor, and intelligence to the important subject of how women and girls can fight being drowned in a sea of pop culture, and lead lives that are fuller, richer, and more connected. Think educates, informs, and—thanks to Lisa's wit and sense of humor—keeps us smiling along the way. Think is a must-read for all mothers and daughters."
—Dr. Phil McGraw, Nationally syndicated television host and #1 New York Times bestselling author
"Lisa Bloom is a dynamo and her book is as smart, quick, and funny as she is. Think paints a clear picture of the power of tabloid culture, inspires personal change, and evokes the desire to make a difference.  Best of all, Think provides a step-by-step guide on how to rescue ourselves from the belly of the beast. This book is a must-read for girls and women everywhere."
—Rory Freedman, #1 New York Times bestselling co-author of Skinny Bitch
 
"Every woman in America needs to read Think. It made me think about how I can become more successful, influential, and compassionate. Lisa Bloom is a leader for our times. Listen to her."
—Jane Velez-Mitchell, bestselling author and host of Issues with Jane Velez-Mitchell on HLN

"Witty, insightful, and practical. Think brims with specific ideas to give women more time, happiness, and meaning in our lives. Even if it were not written by my daughter, I'd still recommend this life-changing book to everyone I know."
—Gloria Allred, women's and victim's rights attorney, partner Allred, Maroko & Goldberg

"Think reads like a conversation with that best friend we all need.  Funny, wise, opinionated, Lisa Bloom covers everything from Angelina Jolie to precut veggies in this how-to, what-for, this-matters guide to a meaningful and honorable life."
—Jeffrey Toobin, CNN Legal Analyst, New Yorker writer, and author of The Nine: Inside the Secret World of the Supreme Court
"Lisa Bloom is a woman of brilliance, boldness, and beauty. One of the smartest and most erudite people in the American popular culture, you debate her on TV at your own risk. In her new book, Lisa deals with one of our nation's most pressing subjects: the need for women to use, and be appreciated for, their minds.  As the father of six daughters, I am immensely grateful to Lisa for this outstanding and riveting contribution."
—Rabbi Shmuley Boteach, New York Times bestselling author of 10 Conversations You Need to Have with Your Children

or
Not Currently Available for Direct Purchase