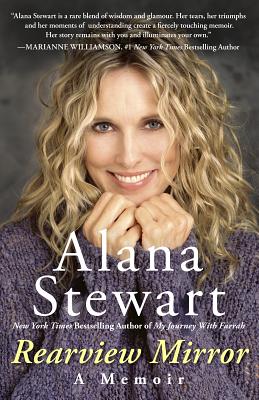 Rearview Mirror: A Memoir (Hardcover)
A Memoir
Vanguard Press, 9781593157074, 272pp.
Publication Date: September 25, 2012
* Individual store prices may vary.
or
Not Currently Available for Direct Purchase
Description
Alana Stewart has lived what many people would consider a charmed life, as an international model, an actress and talk-show host, filmmaker, and bestselling author. But despite her many accomplishments and successes, the truth is, her life has been rife with abandonment, abject poverty, tragedy, and even violence.
In "Rearview Mirror," she takes the reader through her mesmerizing journey from her beginnings in poor rural Texas, her escape to New York to become a Ford model, and finally, her seemingly fairytale, but often heartbreaking life in the glittering world of Hollywood.
With compelling openness and honesty, Alana chronicles her unstable, chaotic childhood, her traumatic and violent rape, and her struggles with bulimia, depression, and self-worth. She also writes about her marriages and divorces with two iconic stars, raising three children on her own, the devastating effects of drug addiction in her family, and the tragic deaths of her mother as well as her best friend, Farrah Fawcett.
"Rearview Mirror" is an inspiring, rags-to-riches story in which Alana also shares the valuable life lessons she has learned from her many challenges and heartaches: unconditional love, faith, gratitude, perseverance, and the importance of finding your higher purpose in life.

About the Author
Alana Stewart is an actress, talk-show host, former model, and president of the Farrah Fawcett Foundation to support cancer research. She is the author of the "New York Times" bestselling "My Journey with Farrah: A Story of Life, Love and Friendship" and producer of the Emmy-nominated documentary "Farrah's Story." In 2011, Stewart received the prestigious True Grit Award from the John Wayne Cancer Institute for her contribution to the fight against cancer. She tours the country regularly, speaking about cancer, addiction, women, aging, her personal battle with chronic fatigue syndrome and her four decades of experience in Hollywood. Stewart lives in Los Angeles, California.
Praise For Rearview Mirror: A Memoir…
"Alana Stewart is a rare blend of wisdom and glamour. Her relatable, womanly perspective on everything she has been through creates a compelling story—not only because of the glitz of its external drama, but also because of the sincerity of her internal search. She's had the outer life of a star and the inner life of a seeker. Her tears, her triumphs and her moments of understanding create a fiercely touching memoir. Her story remains with you and illuminates your own."
—Marianne Williamson, #1 New York Times Bestselling Author and motivational speaker
 "I've have had the pleasure of knowing Alana Kaye Collins from Nacogdoches, Texas when she first arrived in town, and whose name I helped change to Hamilton. Later, with no help from me. I saw her change it again to Stewart. Through marriages and divorces I've gotten to watch this fascinating and complex woman come into her own, from small town roots to the confidante of the glamorous and powerful. Her take on the ride is not only insightful and exciting, it's gut-wrenching and ... more than enough for a lifetime and through sickness and health—ours and others—we have remained friends ... not a small thing in Tinseltown, but read it for yourselves…some of which is between the lines ... mine of course!"
—George Hamilton, Actor
 "Alana Stewart is as beautiful as she is smart, funny, compassionate, and wise. Talented in her own right, I imagine many a woman has envied her for all of these qualities, as well as for her very publicized marriages to two of America's iconic stars. What only a few of us know is the extraordinary number of obstacles and challenges Alana had to overcome, not just to live the life she has lived thus far, but to be here at all. She is all the more remarkable because of her incredible journey."
—Carol Bayer-Sager, Oscar and Emmy Award-Winning Songwriter
 
Advertisement