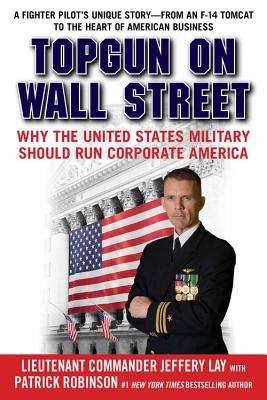 TOPGUN on Wall Street
Why the United States Military Should Run Corporate America
Paperback

* Individual store prices may vary.
Other Editions of This Title:
MP3 CD (10/25/2016)
Compact Disc (4/23/2013)
Compact Disc (4/23/2013)
Paperback (4/23/2013)
MP3 CD (4/23/2013)
MP3 CD (4/23/2013)
Description
TOPGUN on Wall Street chronicles one man's extraordinary journey from the cornfields of Ohio, to the cockpit of an F-14, to the boardrooms on Wall Street. Lieutenant Commander Jeffery Lay and #1 New York Times bestselling author Patrick Robinson bring a provocative, ground-breaking voice to the business landscape with a revolutionary answer for stabilizing corporate America: business—the military way.

As a TOPGUN fighter pilot, Lieutenant Commander Lay perfected a tried-and-true military technique:

PLAN –BRIEF – EXECUTE –DEBRIEF

However, when he retired from active duty in 2006 and went to work for a subsidiary of the ill-fated Lehman Brothers, he noticed that everything about the business world was different: less efficient, awash with excuses for failure, allowance of men with tricky morals to rise to the top, self-gain overshadowing teamwork, and a devastating lack of accountability.

With such deeply rooted flaws, is corporate America doomed for perpetual failure?

Answer: Not if we put admirals in charge and adopt the military's tight chain of command.

This game-changing thesis is interwoven with Lieutenant Commander Lay's dramatic story, including his high-intensity strike fighter aircraft landings, never-before-written details of the United States Navy Fighter Weapons School (TOPGUN), and his heart-breaking, humbling, and inspirational battle with cancer at the peak of his military career.

TOPGUN on Wall Street is written by a leader determined to show the business world that excellence is a choice and perfection is attainable.
Praise For TOPGUN on Wall Street: Why the United States Military Should Run Corporate America…
"This is a wonderful book—capturing an insider's look at the elite and mysterious world of TOPGUN, that coliseum for the daredevils of the US Naval Aviation. It's written by a fabulous F-14 fighter-wing Commander. Too modest, but real heavy on our unbreakable codes of Honesty, Integrity, Courage, and Honor. What a read!"
—Marcus Luttrell, #1 New York Times bestselling author of Lone Survivor
 
Vanguard Press, 9781593157173
Publication Date: May 1, 2012
About the Author
Lieutenant Commander Jeffery Lay is a 24-year veteran of the United States Navy, United States Air Force, and Ohio Air National Guard. A graduate of the United States Naval Academy, he served a highly decorated military career flying the F-14 Tomcat and the F-16 Fighting Falcon in his nation's defense.
An accomplished Mission Commander and graduate of the vaunted Navy Fighter Weapons School (TOPGUN), he flew more than 50 combat missions, made over 400 carrier landings, and accumulated over 3,500 flight hours during three combat deployments to Southwest Asia, the Mediterranean Sea, and the Persian Gulf.
At the height of his military career, Jeff was diagnosed with an advanced form of Hodgkin's lymphoma. Told he would never fly again,
he fought the disease with unspeakable courage, choosing to undergo an experimental form of chemotherapy. Jeff ultimately beat cancer and returned to the cockpit—fittingly—on Veteran's Day, 1998.
Following retirement from active duty, Jeff went on to serve as a wealth advisor at Neuberger Berman—then a Lehman Brothers company. Disenchanted with the bets Lehman made, he ultimately left the ill-fated investment bank and founded a global wealth management firm in Cincinnati, Ohio based on the risk controls he learned at TOPGUN.
Today, Jeff is a trusted advisor to select families, senior executives, corporations, endowments, and foundations. A noted financial author, he mentors investment professionals on risk management, capital preservation, and asset allocation, and hosts a global financial symposium each year, recently held at the New York Stock Exchange.
Jeff is also a highly sought after speaker for his expertise in aviation, business, finance, and motivation. A recipient of the University of Cincinnati Award for Entrepreneurial Excellence, he works with an exclusive list of clientele who appreciate his ability to see and manage risk in the most demanding, high performance environments imaginable.
Patrick Robinson is the co-author of the New York Times #1 nonfiction bestseller Lone Survivor. He is also the author of seven
international bestselling suspense thrillers, including Intercept, Diamondhead, To the Death, and The Delta Solution, as well as
several nonfiction bestsellers, including his New York Times bestseller, A Colossal Failure of Common Sense: The Inside Story
of the Collapse of Lehman Brothers. He lives in Ireland and spends his summers in Cape Cod, Massachusetts.
or
Not Currently Available for Direct Purchase