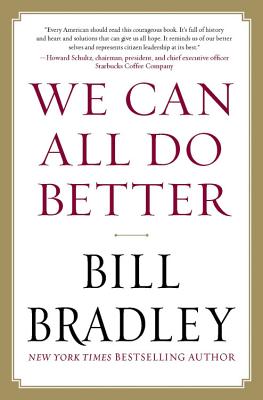 We Can All Do Better
Paperback

* Individual store prices may vary.
Other Editions of This Title:
MP3 CD (10/18/2016)
MP3 CD (12/25/2012)
MP3 CD (12/25/2012)
Compact Disc (12/25/2012)
Compact Disc (12/25/2012)
Description
Bill Bradley is arguably one of the most well-versed public figures of our time.

The eighteen-year New Jersey Senator, financial and investment adviser, Olympic and NBA athlete, national radio host, and bestselling author has lived in the United States as both political insider and outsider, national sports celebrity and behind-the-scenes confidante, leader and teammate. His varied experiences help to inform his unique and much-sought-after point of view on Washington and the country at large.

In We Can All Do Better, for the first time since the financial meltdown and since the worst of the intensifying political gridlock, Bradley offers his own concise, powerful, and highly personal review of the state of the nation. Bradley argues that government is not the problem. He criticizes the role of money and politics, explains how continuing on our existing foreign policy, electoral, and economic paths will mean a diminished future, and lays out exactly what needs to be done to reverse course.

Breaking from the intransigent long-held viewpoints of both political parties, and with careful attention to our nation's history, Bradley passionately lays out his narrative. He offers a no-holds-barred prescription on subjects including job creation, deficit reduction, education, and immigration. While equally critical of the approaches of the Tea Party and Occupy Movements, he champions the power of individual Americans to organize, speak out, bridge divisions, and he calls on the media to assume a more responsible role in our national life.

As this moving call to arms reminds us, we can all-elected officials, private citizens, presidents-do a better job of moving our country forward. Bradley is perhaps the best guide imaginable, with his firsthand knowledge of governments' inner-workings, the country's diversity, and the untapped potential of the American people.
Praise For We Can All Do Better…
"Bill Bradley is gone from the NBA and Senate but in this timely book he reminds us that the demands of citizenship never stop— and he offers a plan to get America back in the game."
—Tom Brokaw, Former NBC News Anchor and New York Times Bestselling Author

"For all of us who care about the renewal of our country and the revitalization of our politics, this extraordinary book provides an indispensable guide.  Bradley speaks with unusual clarity, candor, insight and passion about the problems we face and the road we can take to move forward. This book should be widely read."
—Doris Kearns Goodwin, Pulitzer Prize Winning Author and Presidential Historian

"Every American should read this courageous book. It's full of history and heart and solutions that can give us all hope. It reminds us of our better selves and represents citizen leadership at its best."
—Howard Schultz, chairman, president,  and CEO Starbucks Coffee Company
"At his best there is no better and Bill Bradley is at the top of his game in pointing us toward the renewal of politics with practical ideas and a hopeful spirit. His many years as a public man and private citizen ground his optimism in realistic possibilities of what we can do to make America once again work for all of us."
—Bill Moyers, New York Times Bestselling Author and Host of Moyers & Company

"Bill Bradley's We Can All Do Better is a clarion call to Americans of every political stripe and walk of life to stand up and demand of themselves and of their leaders the fair play, idealism, discipline and optimism that made America a beacon for the world.  This thoughtful book deserves wide attention."
—Dr. Henry Kissinger, Former Secretary of State, Nobel Peace Prize Winner, and Bestselling Author
"Bill Bradley presents a cogent and historically grounded book, outlining the problems embedded in our current American way of civic engagement and proposing solutions."
—Library Journal

"An important contribution to the national discussion with appeal to independents as well as the more traditionally party-minded."
—Kirkus Reviews
"We Can All Do Better is a book that every responsible citizen should read, reflect on, and consider in determining which candidate to back in the upcoming elections."
—New York Journal of Books
"Bill Bradley has bravely and frankly examined the most important issues America must deal with for its economic future, its foreign policy and its political system. He is trenchant in his criticism of what was allowed to happen to the economy leading to a near financial and economic catastrophe. . .He is particularly incensed with the gridlock in the political system, that Congress is more interested in scoring partisan points rather than moved by what is for the common good.  Bradley has a good grasp of the huge challenge China poses for America. . .and what it takes for America  to compete with China."
 —Lee Kuan Yew, former Prime Minister of Singapore
Vanguard Press, 9781593157296
Publication Date: May 8, 2012
About the Author
Bill Bradley served in the U.S. Senate from 1979-1997 representing the state of New Jersey. In 2000, he was a candidate for the Democratic nomination for President of the United States. Before serving in the Senate, he was an Olympic gold medalist in 1964 and a professional basketball player with the New York Knicks from 1967-1977 during which time they won two NBA championships.

Bradley is the author of six books on American politics, culture, and economy, including Time Present, Time Past, The New American Story, and Values of the Game -- all New York Times bestsellers.

Currently, Senator Bradley is a Managing Director of Allen & Company LLC and the host of American Voices, a weekly show on Sirius/XM Satellite Radio that highlights the remarkable accomplishments of Americans both famous and unknown.
Coverage from NPR