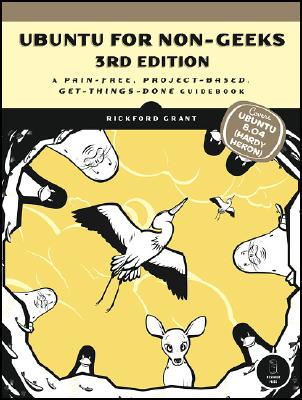 Ubuntu for Non-Geeks: A Pain-Free, Project-Based, Get-Things-Done Guidebook (Paperback)
A Pain-Free, Project-Based, Get-Things-Done Guidebook
No Starch Press, 9781593271800, 360pp.
Publication Date: June 1, 2008
* Individual store prices may vary.
or
Not Currently Available for Direct Purchase
Description
"A fast, crystal-clear topical tour of the amazing collective accomplishment embodied in Ubuntu."-Cory Doctorow, Boing Boing
Ubuntu 8.04 has been hailed as the Linux distribution for newbies, and it's certainly the Linux for the less geeky among us. Even the name is user friendly-it's a South African term that translates roughly as "humanity toward others" and could also describe author Rickford Grant's approach to teaching Linux.
Full of tips, tricks, and helpful pointers, "Ubuntu for Non-Geeks, 3rd Edition" is a hands-on, project-based guide to Ubuntu 8.04 for those interested in-but nervous about-switching to the Linux operating system. This edition has been updated for Hardy Heron, the latest Ubuntu release (8.04), with its improved multimedia support and desktop effects. Step-by-step projects build upon earlier tutorial concepts, helping you absorb and apply what you've learned.
"Ubuntu for Non-Geeks" covers those day-to-day tasks that most non-geeks will want to perform, like how to: Download and install free software, games, and utilitiesConnect to wired and wireless networks or transfer files via BluetoothConfigure printers, scanners, monitors, and USB flash drivesWatch DVDs, listen to music, and even sync your iPodEdit and share your digital photos and videosCustomize the look and feel of your systemTackle more advanced tasks like working with commands and using Windows applications
Whether you're new to computers, looking for a pain-free way to make the Linux switch, or just want a low-cost alternative to Windows, Ubuntu 8.04 is easier than ever. Try it and you'll see.
About the Author
Rickford Grant is the author of Linux for Non-Geeks and Linux Made Easy. He has been a computer operating system maniac for more than 20 years, from his early days with an Atari XL600 to his current Linux machines. Rickford is currently working as a teacher in Greensboro, North Carolina.
Advertisement