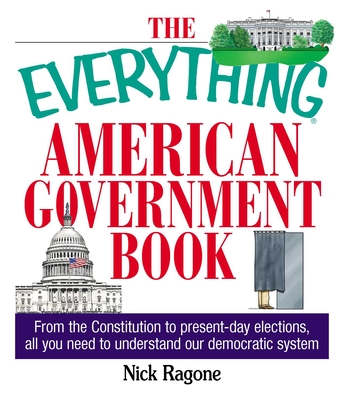 The Everything American Government Book (Paperback)
From the Constitution to Present-Day Elections, All You Need to Understand Our Democratic System (Everything®)
Everything, 9781593370558, 320pp.
Publication Date: June 4, 2004
Other Editions of This Title:
Compact Disc (12/3/2019)
* Individual store prices may vary.
Description
If the confusion following the last presidential election is any indication, the average citizen knows precious little about the democratic system and the laws that affect their daily lives.
The Everything American Government Book
unravels the complexities of our democracy and provides readers with the knowledge necessary to make the right decisions and take an active role in the management of their country. From the roots of American government and the challenges that have helped shape it over the years to its current structure and systems, this thoroughly researched work is ideal for anyone brushing up on civics, as well as students of all ages.
Readers learn about:
The personalities and events that gave rise to our current system
The real significance of the Bill of Rights and the Constitution
The functions of each branch of government and how they work together
Private sector's influence on public policy and decision-making
Ways to get involved and make a difference
Specially designed to inform and empower the average citizen during this critical election year,
The Everything American Government Book
provides the keys to understanding the ins and outs of the most powerful democracy in the world.
About the Author
Nick Ragone (Jersey City, NJ) is a public relations executive in New York City and a graduate of the Eagleton Institute of Political Science at Rutgers University and the Georgetown University Law Center. He has worked as a speechwriter for several elected officials in New York and New Jersey, and has served as a consultant for gubernatorial, congressional, county executive, and state senate officials and candidates in three states. Mr. Ragone is a frequent political columnist and radio commentator, and is the author of Operation Underworld: The Secret Collaboration Between the Navy and Organized Crime.