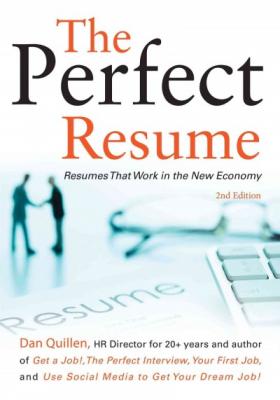 The Perfect Resume (Paperback)
Resumes That Work in the New Economy
Cold Spring Press, 9781593602222, 192pp.
Publication Date: October 4, 2016
Other Editions of This Title:
Paperback (5/6/2014)
* Individual store prices may vary.
Description
HR Director and author of four job search books Dan Quillen shows readers how to craft an incredible resume that will get job-seekers in the door!

Dan Quillen calls on his expertise as an HR professional (and as one who lost and found a job in the toughest economic environment since the Great Depression) to help his readers understand the New Economy, and how to find work when many cannot. The Perfect Resume second edition focuses on that most important tool in the job hunter's quiver -- the resume. Quillen walks his readers through the technical aspects of resume writing, but also helps them understand the tricks of the resume-writing trade. He teaches readers how to write resumes that end up in the hands of hiring managers, not screened by gatekeepers and deposited in the recycle bin. Topics covered:
• The current economic environment
• You lost your job -- what do you do now?!
• The importance of a resume
• The mechanics of resume writing
• Three types of resumes and their uses (Chronological, Functional, Combination)
• One size doesn't fit all (Targeting your resume)
• Your resume template • How to handle resume difficulties (Gaps in employment, Short-term employment, Lack of experience)
• Section-by-section resume reviews

• New Appendix shows 10 different resume samples


About the Author
Dan Quillen is the author of four job-search books. He has been an HR Director for more than 20 years, and knows exactly what hiring managers and directors are looking for in job applicants. His is the quintessential insider advice for anyone looking for a job in these tough economic times.