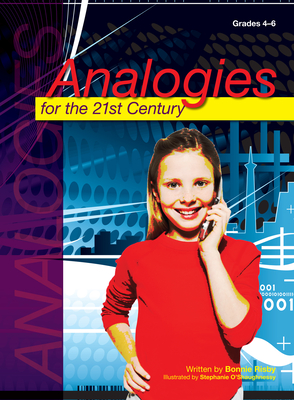 Analogies for the 21st Century (Paperback)
Prufrock Press, 9781593630478, 32pp.
Publication Date: January 1, 2005
* Individual store prices may vary.
Description
This is it Here's the perfect venue for intermediate teachers to combine thinking skills and vocabulary development. Step into the 21st century with lessons that not only present students with analogies, but also provide them with instructions on how to best solve these verbal puzzles. An analogy is a comparison between two things. It points out the similarities or likenesses between things that might be different in all other respects. These exercises not only build thinking skills and make students more flexible and analytical; they also enhance vocabulary and writing skills. Intermediate students will get a jump on thinking skills and test-taking strategies with these sure-to-please exercises. Whether this book is their first encounter with analogies or whether they are veterans with a great deal of experience, Analogies for the 21st Century gives them the tools they need in a fun-to-use format. It provides thinking strategies to help recognize the unique relationships between paired items and how these relationships can be replicated. Each lesson introduces new types of analogies, gives examples, and offers hints on solving the analogies. Vocabulary reflects today's culture, and helpful hints guide students to build skills that will allow them to perform better on tests.
About the Author
Bonnie Lou Risby grew up in the Illinois woodlands atop the limestone bluffs across the Mississippi River from St. Louis. These woods were her playground where she and her siblings camped out, played detective, and enjoyed the beauty of the outdoors in every season. After attending college at Southern Illinois University Edwardsville, she taught school in Columbia, IL, for 13 years. She has taught elementary school, middle school, and high school, concentrating on the subjects of French, English, and gifted education. When Risby helped write the grant to establish Columbia's Gifted Program in the early 1970s, there were few materials readily available that fit well with a one-period per week pullout program. After the birth of her son, Risby retired from teaching and joined a family and marriage counseling practice for 12 years, continuing to write and create logic books in her spare moments. Retired from her therapy practice, she now works in a family business with her husband and son in Ballwin, MO. Risby has continued to write classroom books, chapter books, magazine articles, and books for young adults. Besides writing, Risby loves taking float trips down Ozark streams, biking, long walks with her dog, gardening, family history, and travel.
or
Not Currently Available for Direct Purchase