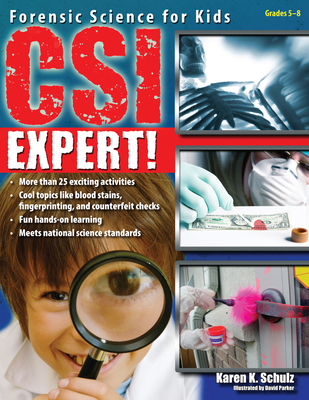 CSI Expert!
Forensic Science for Kids: Grades 5-8
Paperback

* Individual store prices may vary.
Description
Crime scene investigation is hotter than ever, and kids everywhere will love learning about how their favorite detectives use science to figure out unsolvable thefts, arsons, mysteries, and more. CSI Expert : Forensic Science for Kids includes more than 25 in-depth activities on fingerprinting, evidence collection, blood-stain identification, forensic careers, ballistics, and much more. The author of the best-selling Crime Scene Detective series of books combines more than a decade of experience teaching forensic science to middle school students with the latest technology and research in criminal investigations in the intriguing standards-based scientific study included in CSI Expert Students will love collecting dental impressions, studying their classmates' fingerprints, looking at tool marks left at the scene of the crime, analyzing mysterious powders, and discovering the various types of counterfeit checks. Each lesson includes a realistic case for students to crack using the knowledge they've learned about analyzing forensic evidence, and the book also includes an assessment assignment that teachers can employ to test their students' learning. Both kids and teachers will be able to easily implement the book's hands-on, detailed, and exciting forensic science experiments using everyday materials. After completing these activities, kids will be begging for more fun science learning.
Prufrock Press, 9781593633127, 144pp.
Publication Date: April 1, 2008
About the Author
Karen K. Schulz received her bachelor's degree in elementary education and mathematics from Southern Illinois University at Carbondale in 1984. She received a master's degree in teaching from Webster University in 1989. In 1996, she earned her gifted certification from Webster University. She currently teaches at Wildwood Middle School in the Rockwood School District. Schulz has been teaching middle school gifted education since 1993. Over the years, Schulz has presented her forensic science curriculum at numerous gifted education conferences. In 2001, Schulz received the national Education's Unsung Hero Award from ING Northern Annuity for her work in developing a forensic science curriculum for her classroom. In the fall of 2005, she won a national competition sponsored by Olympus America and Tool Factory, for her continuing work with forensics in the classroom. Schulz lives in Ballwin, MO, with her husband Jim, their daughter Taylor, and their son Matthew.