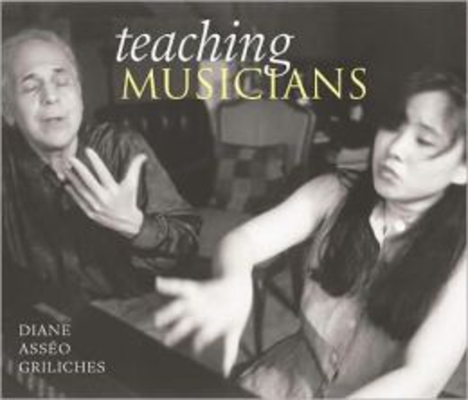 Teaching Musicians
A Photographer's View
Hardcover

* Individual store prices may vary.
Description
As a musician and fine arts photographer Diane Asseo Griliches has observed the many distinctive and dynamic ways in which music teachers interact with their students. These 60 black and white photographs capture unique moments in the lively teaching sessions, and the viewer sees great musician/teachers (YoYo Ma, Jimmy Heath, Roman Totenberg, Bobbie McFerrin, and Ravi Shankar, to name but a few) photographed in the act! We are led into a world few have been privileged to share, where one sees the passion, devotion, joy and agony of hard work, the concentration and approval in the faces and body language of students and teachers, and through it all, the pleasures of shared music making. This book involves classical, jazz and ethnic areas of music. Each image is accompanied by a short biography of the teacher as well as a quotation from the teacher or student. All will respond to the very human emotions and the fine photography. This is a book for music lovers and lovers of photography. When one hears the names Yo-Yo Ma, Paula Robison, Bobbie McFerrin, and Ravi Shankar, great musicians immediately spring to mind. What most people do not know is that these dedicated people are also passionate teachers. From intimate one-on-one lessons to larger classroom sessions, these tireless musician/teachers are passing along the secrets of their art to the next generation. In Teaching Musicians, musician and fine arts photographer Diane Asseo Griliches leads us into a world few have been privileged to enter. The students are sensitive, vulnerable, reaching for confidence and achievement, and the teachers are encouraging with humor, critical commentary, generous guidance, or excited demonstration. The dynamic exchanges between student and teacher are observed through body language, facial expressions, and commentary. These convey much in attitude and approach, and through these intense photographic images one can experience the importance of the making of a musician. The photographer has entered into the other life of these fine musicians -- the life as a teacher -- and captured these moments for posterity. We also learn something of the life of these teachers, and relish what they or their students have to say.
Bunker Hill Publishing Inc, 9781593730604, 144pp.
Publication Date: January 8, 2008
About the Author
Diane Assaeo Griliches has been involved in music, theatre and fine art photography for many years. Her other books are Teaching Musicians, A Photographer's View, and An Appalachian Farmer's Story: Portrait of an Extraordinary Common Man(Mercer University Press).
or
Not Currently Available for Direct Purchase