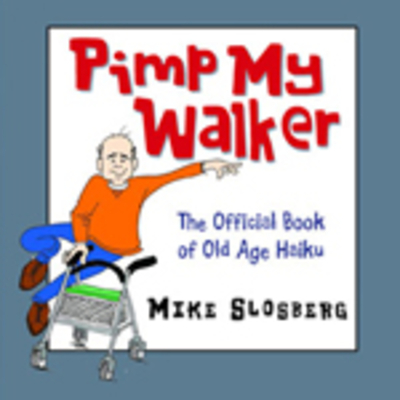 Pimp My Walker (Hardcover)
The Official Book of Old Age Haiku
Bunker Hill Publishing Inc, 9781593730635, 96pp.
Publication Date: September 5, 2007
* Individual store prices may vary.
Description
A Guide For Growing Old With StyleGot a computerCan't use it yet, but it looksGood on the tableOccasionally a rare book comes along that approaches the matter of aging with sympathy, understanding, and sobriety. This book is not one of them. On the contrary, Pimp My Walker: The Official Book of Old Age Haiku by Mike Slosberg accepts aging with the solemnity of slipping on a banana peel. As the subtitle indicates, the author has taken the age-old art form of haiku and turned it into an art form for old age - or at least aging. Each of the 73 poems is a gem of wit, wisdom, and cantankerousness. Witness his take on life's little pleasures:I can rememberWhen sex was better than foodNow vice is versaMike maintains that old age really sucks, and one has to be philosophical and poetic to survive. Humor is the only defense - with the exception, perhaps, of copious amounts of surgery. Humor is the alchemy that can magically turn tragedy into comedy. Pimp My Walker is a celebration of the cardinal aspects of growing old, softened only with Mike's hilariously appropriate illustrations. Think of it as an owner's manual for aging with humor, whether you are this or that side of 40 or are simply slipping to the far side of 80. It will keep you youthful. It is good for the digestion and low in cholesterol.Mike Slosberg is a self-described OLD novelist, playwright, and cartoonist. His previous books include the novels The August Strangers and The Hitler Error. Mike writes haiku instead of doing crosswords, putting boats in bottles, and lamenting his age.
About the Author
Mike Slosberg is an aging novelist, playwright and cartoonist. This is his fourth published book. Mike writes Haiku instead of doing crosswords, putting boats in bottles, and lamenting his age.