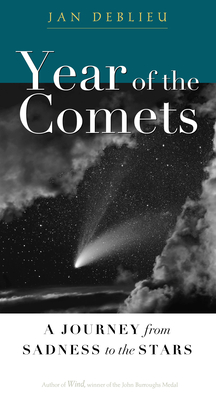 Year of the Comets (Hardcover)
A Journey from Sadness to the Stars
Counterpoint LLC, 9781593760700, 201pp.
Publication Date: April 14, 2005
Other Editions of This Title:
Paperback (12/1/2006)
* Individual store prices may vary.
Description
On the clearest nights in the darkest places you can see two thousand stars. On what scaffolding are they hung, Jan DeBlieu began to wonder. Her husband was sick. She needed signs of order and beauty.
And in every moment thousands of neurons fire in our brains, giving rise to our waking thoughts and dreams, our wishes and emotions. Can we map the complexities of either the internal or external cosmos that defines who we are?
These two polarities, the deep inner path and the vast gaze outward, became of immense importance to Jan DeBlieu in the spring of 1996, with the appearance of the comet Hyakutake, the first of two great comets to visit our night sky within a year. That spring, her husband had begun a long slide into a clinical depression. One night, unable to sleep, she stepped outside and found herself staring at a great comet, an encounter that created an intense desire to learn all she could about the stars, space, celestial events of grand proportions and the structure of the universe.
or
Not Currently Available for Direct Purchase